Easy Sweet and Sour Meatballs
I love EASY recipes! I'm not sure where I got this recipe.
I read cookbooks like novels and if I see one I like I write it down and forget where it came from.
Look at my other yummy Easy Recipes!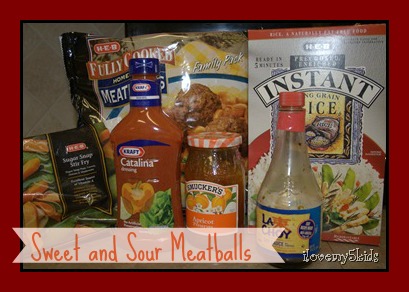 [wpsr_pinterest]
Ingredients:
12 oz frozen prepared meatballs or you can make your own. I would let them thaw out some.
1 frozen package of stir fry veggies or cut fresh ones.
1/4 cup apricot jam (I have used grape too.)
1/4 cup Catalina dressing (French is great as well.)
2 Tbsp soy sauce
Combine all ingredients in a skillet. Cook on medium heat for 10 minutes or until veggies are cooked through. If doesn't look like enough sauce just add more dressing and jam. Stir until heated. Serve over rice.
Out of 7 votes (my family) it was given 5 thumbs up. (2 of my kids don't like sugar snap peas and cooked carrots.)
That is a winner in our home and this is what works for me!
[wpsr_pinterest]
Blessings to you!  You are loved!