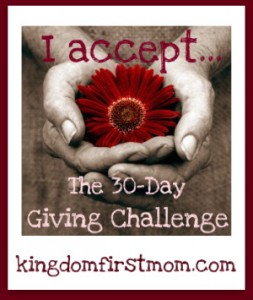 Kingdom First Mom is offering a 30 day giving challenge.  In some way, we are to give something everyday for the next 30 days.  It starts November 1, 2009!
I'm so excited!  I'm actually starting on Monday, November 2, 2009 with my kids.  This will be our first school giving project.  This is going to be so much fun!  What a delightful way to bless others and think of others more highly than ourselves.
Blessings to you!!!  You are loved!!!

©www.ilovemy5kids.blogspot.com