I actually got this from the Rachael Ray show a couple of years ago.  My family LOVED this more than the traditional meal.  It got a 14 thumbs up…which is a rarity in this house.
We try to make it every year.  I suppose you could use chicken as well.  I might try that this year!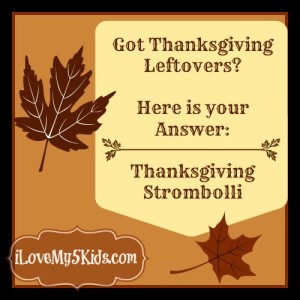 [recipe id=""]
Thanksgiving Stromboli
(Recipe from the Rachael Ray site…tweaked just a bit.)
Ingredients:
 1 tube refrigerated pizza dough (This is the most expensive part because you should have everything else from leftovers.)
2 tablespoons cornmeal (This is optional but adds a nice crunch.)
1 cup leftover cranberry sauce (Or whatever you have left.)
 3 cups leftover turkey, shredded
 2 cups leftover stuffing
 2 cups cheddar cheese, shredded
 2 tablespoons extra-virgin olive oil (EVOO)
 2 tablespoons sesame seeds
Open the dough. Cover your surface with a light dusting of flour and cornmeal.  Cut your dough into 4 sections after it has been rolled out, my dough has perforated edges.
Spread a teaspoon cranberry sauce across one section on a diagonal.  This is a super job for the kids, a little messy maybe.
Then you will need to add the turkey and stuffing down the middle of the dough going from one corner to the opposite corner in a diagonal line. Top with the cheese. (Don't over do the filling or you will have a mess.)
Press your two corners together — you should have turkey mixture running down the middle with some filling exposed at each end, sometimes I do and sometimes I don't.
Lightly brush evoo on top.  You can sprinkle sesame seeds at this point, I don't usually.   I used a pamper chef cooking stone and bake for 20-25 minutes, until evenly golden.
She used gravy to dip hers in but you don't need to…tastes great without it.
YUMMY!!!
[/recipe]
Blessings to you!!!  You are loved!!!