We have a few Christmas trees in our home (only one is up right now).  One of the kids' trees is just decorated with homemade ornaments. We made these a few years ago and decided to make some more.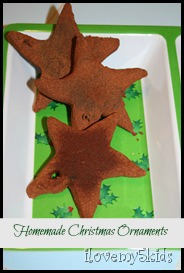 It is so simple and the smell is out of this world delicious!
These are NOT edible!!!
Ingredients:
1 1/2 cups ground Cinnamon
(2 bottles of cheap cinnamon will do – I think they were like .25 for each bottle at Wally-world.)
1 cup of applesauce (Un-Sweetened)
1/3 cup of White School Glue
Cookie Cutters
Straw
Ribbon for hanging

Pour into bowl.


Don't forget the glue!  Mix well.


Knead into a ball.
Use wax paper for easier clean-up.
Let it sit for 30 minutes.
Reminder:  It is NOT edible!
Roll out dough to approximately 1/8 inch thick and cut into shapes using cookie cutters.  I let my kids use their hands to flatten it out like you would with play-dough
.
Poke a straw through the dough to make a hole to be able to hang later.
Lay them out flat so they can air-dry turning them over occasionally
.
Might take up to 5 days to completely dry.
Let me know if you have done these and have pictures.  Some people use puff paints to decorate them.  I liked them just with a pretty ribbon.
Blessings to you!!!  You are LOVED!!!
The Tale of Three Trees: A Traditional Folktale