Welcome to the party!  I'm so glad you came over…

Have I got a prize for you!  Keep reading!
My name is Lana-like Banana. 
I am totally a crazy, homeschooling (
meaning I teach all subjects in my home
),
people-loving, Christ-centered, adored wife and
mother of 5.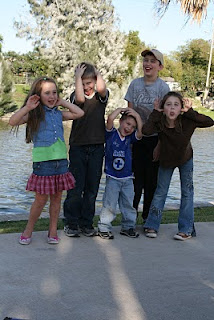 These are my "silly" children.  They were obeying by making "silly' faces!
Some other interesting facts…
I love good EASY recipes.
Right now, I'm entered in a little contest and could use your help.  It takes like 5 seconds.  If I win, I'm giving half of my winnings to a ministry called
Beaded Hope
. (Feel free to go to their site and shop.) They are an unbelievable ministry that helps ladies in South Africa by selling jewelry made by ladies whose families are affected by disease. 
Go
here to enter
!  All you have to do is enter your name and email…you will get no spam.
Okay are you ready?
My prize that I bought to give away is:
Beauticontrol's Microderm Abrasion Facial Buffing Creme with a buffer.  
The exfoliater removes dead skin cells making your face look younger.
Yeah, it is valued at least $60.00.
Much more if you are paying the average $210.00 per treatment at a day spa.
Want to win:  Leave a comment and tell me about yourself!  (So simple!) 
You don't have to be a blogger to win!
Here is a
link to the Party
to see another way to win!
There are so many cool prizes to be won at this year's Ultimate Blog Party, but my top three picks would be:

US39 -Be My Guest certificate ($250 value) for one lucky winner, (2 night stay for a family of four) at any Hilton Garden Inn.
Provided by:

Hilton Garden Inn 
And if my top three picks are already chosen, I'd love any of the following (in order of preference):
US113, US21, US63, US6, US10, US20, US37,  or anything else related to  children since I have 11, 9, 8, 5, and 3 year olds.  Plus, I'd love anything that would pamper their mom.  (That's me!)
Blessings to you!!! You are loved!!!
©www.ilovemy5kids.blogspot.com