Yesterday, my hubs got home and just had to finish cutting the wood that had been delivered that afternoon, to fit in our pantry.
So, he cut.  And cut.   And cut some more.
Finally around 10:00 or so – all the wood was cut for some awesome custom pantry shelves.  He just had to glue and nail them together (a quiet job.)
Then after we heehawed and managed to remove the door frame to insert the rather obnoxious shelving into a cramped pantry closet – it looked awesome.  Only one more unit to go….
11:00 p.m. – hubs walks into living room.  Sad face.  He whispers…"I cut the shelves wrong…they need to be re-cut."  Notice the time. 
Last shelf.  Only 6 boards.  Complication – our neighbors are asleep.  They wouldn't be – if we turned on the LOUD saw.
So, we didn't cut.  (sniff sniff)
Next Day –
He cuts all the wood in the evening after a down pour of rain.  The new shelves won't fit in the doorway of the pantry.  We have to remove the island.  Yes, the island.  It has granite on the top.  Not cool.  My finger gets pinched in moving it.  Not cool, again.
We get the new shelves in the closet but still won't fit.  He has to take the shelves we put in yesterday and remove them.  I lay on the couch with a tremendous headache and listen the the pounding.  If it wasn't so real – I'd be laughing.  Did I mention – we have company coming? 
It will work out.  Always does. 
I might need more tylenol.  Or something stronger – like chocolate milk.   I love chocolate milk.  It soothes me.  I admit – I'm a kid at heart.
In other news….
(no I'm not expecting – my friends are constantly thinking that is the only news that I could have!  Maybe because of all the times I've said – Guess what???)
Not sure how long it has been since I've updated you on our kitchen remodel so here are some recent pictures.
My beautiful sink…which I LOVE!!!!
My cook-top – we haven't became friends yet.
This is going to look so different – can't wait to start on the backsplash!
My island…I LOVES!!!!
LOVESSSSSSS……
What do you think I should put in it?
Suggestions….????
Do you see the area above the ovens?  I'm contemplating what to put in there…do you have more suggestions – I'll be glad to hear or see them!!!!
  Don't you love this?  (Never mind the mess…it is all going in the pantry when the pantry has shelves!!!)
Our other table will go by the far wall…can't wait!
And cabinets…Oh, can you just imagine!
Tools are going to be restricted from of my kitchen after this is over!  Tools – OUTSIDE!!!!   No exceptions unless you have written approval from the HEAD CHEF – who is me! 
This already looks different!   I guess I haven't taken the updated updated pictures.
This is the table where we do our school!  How I miss doing school!
I'm putting our bar stools together – hopefully tomorrow.
I love my eldest!  He is a clown!
The living room without furniture.
  Okay, so that is our renovation…still in progress.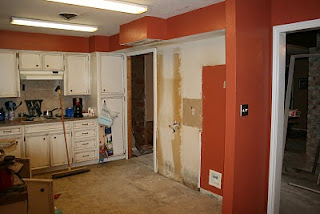 The before!
It is a long ride….
Blessings to you!  You are loved!!!