When we travel we always try to stop at
the World's Largest _______.  (You fill in the blank!)
We also love to stop at information centers or at least places that have soap and toilet paper in their restrooms.
(Yeah, not kidding – sweet essentials with 5 lil' ones!)
Our last major road trip, we found ourselves needing to make a stop.  We were in London, Kentucky.
  Who knew of such a place?
As we were entering the building we were surprised to see the World's Largest Skillet.  Kentucky Fried Chicken is a major feast in this little town!  They fry over 400 pieces of chicken in it because they host the World's Chicken Festival, which happens to be September 23-26.
When we went inside – the sweet southern lady told us, they now use a stainless steel skillet instead of the cast iron.
The cast iron skillet is amazing…
It requires 300 gallons of cooking oil to fill. Can cook 600 quarters of chicken at one time.

Cooking 7000 pieces requires about 375 pounds of flour, 75 pounds of salt, 30 pounds of pepper, 30 pounds of paprika, and the World Chicken Festival's special ingredients.
Can you say that is a lot of chicken?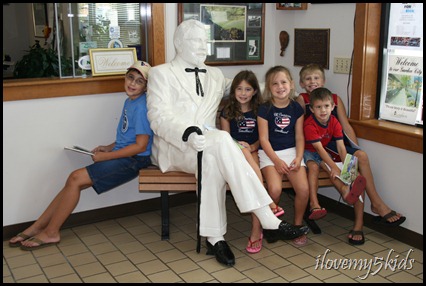 My kids also got to sit by Colonel Harland Sanders, founder of Kentucky Fried Chicken.
What a surprise treat this little stop was on our trip!  And they had clean restrooms with all the essentials!
Do you fry your own chicken or buy a bucket? 
I confess I'd rather buy it already fried.
Blessings to you!  You are loved!