This is one of my most fave salads ever.  I only make it at Christmas time for ladies' brunches and dinners.
I change my recipe to fit my needs and grocery store.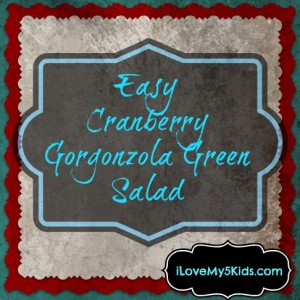 [wpsr_pinterest]
Red leaf lettuce works instead of Bibb lettuce.  Any tart apple will do.  I also use minced refrigerated garlic that comes in a jar.  So, I guess…I totally veer from the original recipe, which I think came from an Old Southern Living magazine or maybe a index card, not really sure.  🙂
[recipe id=""]
Cranberry Gorgonzola Green Salad
1/3 cup vegetable oil (I use Canola)
1/4 cup seasoned rice vinegar (I've used apple cider vinegar)
3/4 tsp Dijon mustard
1 clove garlic, pressed (I use the minced refrigerated jar garlic)
1 small head Bibb lettuce, torn (Red leaf works great!)
1 small head green leaf lettuce, torn
1 Granny Smith apple diced (or any tart apple)
1/3 cup coarsely chopped walnuts, toasted
1/3 cup dried cranberries
1/3 cup crumbled Gorgonzola cheese
Combine first 4 ingredients;  stir with whisk until blended.  Set aside.
Just before serving, combine lettuce and remaining 5 ingredients in a large bowl.  Pour dressing over salad;  toss gently.
Yield:  8 servings
[/recipe]
[easy-share buttons="no" counters=0 native="selected" show_fblike="yes"]
My kids do not appreciate the strong flavors.  (They will eventually.)  However, ladies always ask for more!
Blessings to you!!!  You are loved!!!