Grandma's Peach Cobbler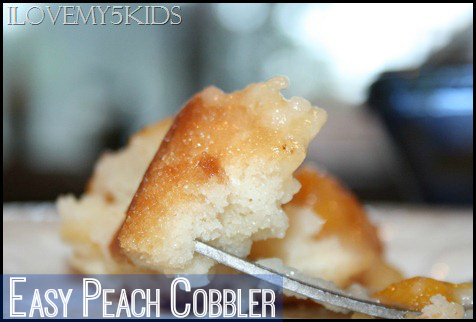 [wpsr_pinterest]
Let me just say – this recipe is not for the skinny, health conscience, worried if my jeans are going to fit in the morning kind of person.
It has butter…
real butter.
Not the kind that is fake.
I'm serious.
Don't use that pseudo-butter stuff here.
The butter gods are looking.  They will fire little darts while you are sleeping – at your big toes.  It is true.  What kind of mother would I be if I lied in the month of December?  (Oh, wait…like mine.)
There – are we clear on the subject of butter?
Peach Cobbler party!
Oh my!  Oh my!  Peach Cobbler is my name and I am scrumptious!
Taste me – I'm a good good peach cobbler!
[recipe id=""]
The Peach Cobbler Recipe
by: iLoveMy5Kids.com

1 stick of butter (Remember what I said – REAL!)
1/2 cup of milk
1 1/2 tsp Baking Powder
1 cup flour
1 cup sugar
pinch of salt
2 cans of peaches or whatever fruit you want to use!
Sprinkle of cinnamon

Melt butter in cooking pan.  I use the microwave.  (This is not Grandma's way…she uses the oven.)
Make batter – basically mix everything in a bowl except the butter.
I then put the fruit in and then I top with batter.  Sprinkle with cinnamon.
Bake at 350 degrees until crust is brown.  (Usually around 45 minutes.)

Enjoy!

Top with Vanilla Ice Cream if you want to be just like Grandma.
[/recipe]
Peach Cobbler gone missing…
(Grandma says you can use any kind of fruit including apples, cherries, and other kind of canned fruit.)
I only use peaches…because I'm scared I might like something else…then only stretchy pants for me!
I like peaches in my cobbler!

I'm not the only one who likes Grandma's Peach Cobbler!
Blessings to you!  You are loved!
[wpsr_stumbleupon]
Partying with:
Funky Junk Interiors
Southern Hospitality
Kelly's Korner