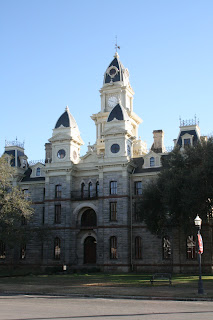 I had 8th grade Texas History many years ago.  If you live in Texas and go to public school – it is something they feel you should learn.
My Texas History teacher, Coach C. was awesome!  He made it fun and exciting.  He probably doesn't realize how much he has influenced others to teach, including me with my own kids.
He used to give us extra credit if we brought in a sketching of a historical monument.  We had to lay a piece of paper over the monument and run either a crayon or pencil over the paper.  Do you know how many monuments a girl can get?  It made me have an eye for history!
However all that said, Texas history has sad roots.  I was reading up on cities that fought in the Texas revolution and I just started crying.  This stuff really happened.  All those Mommies and wives that never saw their men again – so depressing.
We drive through Goliad and it always makes my heart ache.  The city itself is really neat and in the middle of ranch country.  We were here last Sunday and the town was EMPTY, I'm talking ghost town.
Here are some pictures of the county courthouse:  (I love courthouses!  The design on most courthouses are so exquisite!)
Isn't she a pretty building?  I really like this courthouse. I should make my kids do a study of courthouses.  My mind is reeling of the assignments for this coming year….life of a homeschool Mommy.
   I wonder what happened to the windows…why are they bricked up?  I'm sure there is a story there.
  I'm sure those doors are busy during the week.
I just love hearing the chimes when the clock strikes.  We made perfect time!
Here is the "ghost town"…
  No one!
  Not one person!  Not even a tumbleweed…
  A neat soldier from the Nutcracker!
We went to see the Nutcracker Ballet as a family this year…so this was a special picture.
   I wish this shoppe had been opened…how fun!  My hubs was probably glad it wasn't opened. 
We found Santa after Christmas…he was sitting in sand.
Deserted.
Of course, my kids had to look at the Historical Monuments.  They have my genes. 
Isn't this a neat building?  I can just imagine a Southern Belle in her hoop skirt coming out of the door and waving a fan in her face to ward off the heat.
I'm not sure if you can see the sign on that restaurant…it is called The Hanging Tree Restaurant.  Notice all the bikers…we didn't go very close.  But there were people in there…we think. 
(Corrected to say:  We didn't walk down there but it was not because of the bikers or bikes…but because we had a puppy taking a potty break.  We were trying to stay away from people on purpose because the puppy hadn't had shots yet and we were trying to keep her away from ALL other animals and people who may have had animals.  We would never stray away from people just because of the vehicle they drive.  We truly love people, regardless.  Sorry, if this was written in a way that was offensive.)

Across the street, was the hanging tree.  Seriously.  We didn't walk down by it.  We stayed in the "ghost" part of the town…where there were no people.  
  Again, my girlie and those historical markers.  She can't even read yet…but she know it must be an important piece of history.  (We are homeschoolers and take every opportunity for those teaching moments.)
Hope you enjoyed our little side trip!  
Do you have little places you like to stop at as a family? 
(I'm always looking for new ideas!)
Blessings to you!  You are loved!