This is one of our FAVE bean dishes!  
Works great at a BBQ or just let it sit in the
crock-pot
for a hearty dinner!  
Did I mention EASY!?!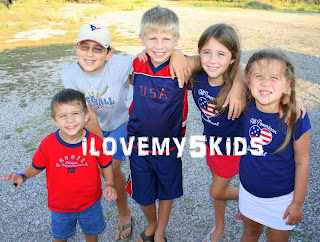 My mom gave me this recipe. I tweak it
every time
to fit my needs or what I have in the kitchen cabinet!
4th of July Bean Casserole
from ilovemy5kids
1/2 lb sliced bacon, diced
1/2 lb ground beef (I use turkey)
1 cup chopped onion
1 (28 oz) pork and beans
1 (17 oz) lima beans
1 (15 oz) kidney beans (rinsed and drained)
1/2 cup BBQ sauce (Sometimes I use less)
1/2 cup ketchup
1/2 cup sugar (I don't use that much)
1/2 cup brown sugar  (I like light)
2 Tbsp prepared mustard
2 Tbsp molasses
1 tsp salt
1/2 tsp chili powder
Cook bacon, beef and onion in a skillet until meat is brown and onion is tender. Drain. I rinse it. Transfer to crock pot
and add rest of ingredients. Mix well. Put on low until beans are heated through.
The original recipe said to cover and bake in a 350 degrees for 45 minutes in a baking dish. Uncover and cook for 15 more minutes.
Totally a dish worth taking to a BBQ.   Enjoy!
I totally only do EASY RECIPES!   There are A LOT of them!  Have fun!  You can also do the above recipe in ONCE a MONTH Cooking!
Blessings to you!  You are loved!

©www.ilovemy5kids.com