Homemade Ant Farm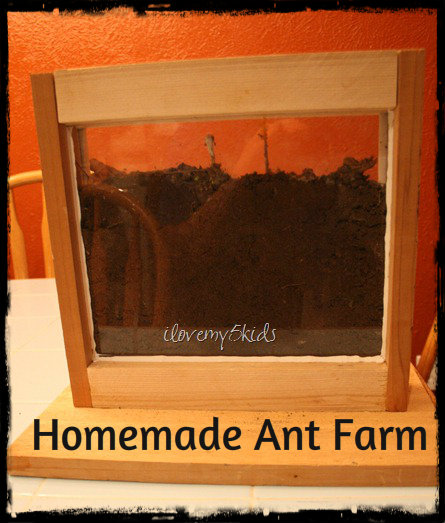 [wpsr_pinterest]
This was part of our Ancient Egypt study projects.  See our Mummy, Sphinx and of course the Pyramid.
The students had to do a project that reminded them of Ancient Egypt.
My eldest picked an ant farm based on Proverbs 6:6.
Go to the ant, you sluggard;
consider its ways and be wise!
The Egyptians were kind of like the ants building pyramids and making paper-always busy and quite brilliant.  They built tunnels that led to fake entrances – so no one could find the grave.  Very interesting!
Ants are very busy creatures.  They can build tunnels in no time.  We actually never saw them rest.
We used 2 8×10 picture frames and took out the glass.
My hubby had leftover wood from an older DIY project.  They then cut the wood to make a window.
They then caulked around the two panes of glass. 
They dug up an ant bed – all we could find were fire ants.  Not the safest idea.  But, it did work.  Word of warning:  ants do sting.  They do hurt.  This project is not for the weak.  Or the Mom who is allergic to ant bites.  Or for the neighbor who likes quiet children.
I tried getting a picture of the tunnels.  Amazing little creatures.
This is how we fed the little viscous ants.  We put water on a Q-tip and honey on a toothpick.  They liked both.  Eventually, I just added an ice cube.  It was fun to see it melt and water the soil.
Update on ants:
They all escaped on my kitchen table.  Apparently fire ants can bore through wood.  We didn't caulk the bottom.
Learn from us and go to the ant.  And caulk the bottom too. 
Blessings to you!  You are loved!