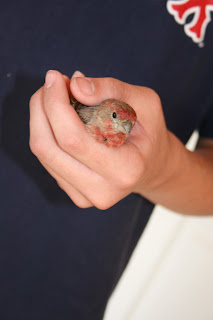 A bird recently got in the house and my son saved it.
Sometimes scripture doesn't seem to make sense.
The recent hail storm devastated more than just our windows, roofs, cars – it changed the way we hear a storm warning, thunder or even the way we hear bird whistles.
The other day, we were under another Thunderstorm Warning.  My iPad sent me a warning because it is synched with The Weather Channel.
My daughter was sitting by it and just started crying.  She was scared of another storm.  Not really scared  but was actually in terror.  I tried comforting her.
A scripture came to mind but I didn't want to use it for this situation.  
Matthew 6:26
Look at the birds of the air; they do not sow or reap or store away in barns, and yet your heavenly Father feeds them. Are you not much more valuable than they?
The day after the storm my eldest picked up over 30 dead birds out of our neighbor's and our yard.  Right now my kids don't feel like the Lord protected us from the storm.  (We had tons of damage as well as our entire city.)  Things can be replaced.  But, it is hard trying to explain the Lord's Will sometimes to children or adults.  (Just being real.)
This is a learning life lesson for all of us.
Things happen that we have NO control over.
Things happen that the Lord has complete control over.
We have to decide if we serve things or the Lord.
The next day, I was just pondering of all the events that have happened and I was reminded of Jesus when He was in the boat asleep traveling with His most faithful followers, His disciples.
A storm came up on them and I can just imagine them saying "Uh, Lord…Gonna wake up now?  We are about to DIE! Don't you care about us?"
If you don't know the story, here it is – The Amplified Version.
Mark 4:37-41
  37And a furious storm of wind [of hurricane proportions] arose, and the waves kept beating into the boat, so that it was already becoming filled.
    38But He [Himself] was in the stern [of the boat], asleep on the [leather] cushion; and they awoke Him and said to Him, Master, do You not care that we are perishing?
    39And He arose and rebuked the wind and said to the sea, Hush now! Be still (muzzled)! And the wind ceased (sank to rest as if exhausted by its beating) and there was [immediately] a great calm (a perfect peacefulness).
    40He said to them, Why are you so timid and fearful? How is it that you have no faith (no firmly relying trust)?
    41And they were filled with great awe and feared exceedingly and said one to another, Who then is this, that even wind and sea obey Him?
It wasn't a little storm.  It was of "Hurricane Proportions"!
I'm not really a Bible scholar.  In fact, most scripture just baffles me.  I know how to use a Strong's and I go to my husband for clarification on many passages.  When I first read this passage, I was confused at how Jesus was so cold to His followers.  Then I read closer. 
Where was Jesus in the midst of the storm?  
 Sleeping.
What did the disciples say exactly?
"Master, don't you care that we are about to die?   


Was Jesus scolding the disciples for calling on Him?
No.  He wanted them to Firmly Rely and Trust knowing and even in the midst of the storm, He knows ALL.  That alone is comfort for me. 
He wasn't getting on to anyone for calling on Him.  He wanted them to trust and rely on HIM.
We did that in the storm!  We called upon Him.  We sang His praises!  Our faith was not shaken.  We knew if we died, He was the prize!
Storms in this life are never over.  We still have issues at hand.  But, we will overcome!  Then when our storms are calm, someone else might be going through them – AND we'll be able to extend comfort!
Blessings to you! You are loved!

 ©www.ilovemy5kids.com