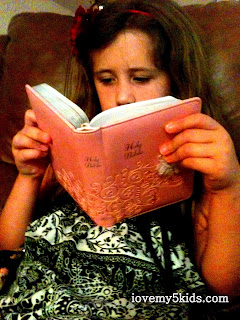 Ballerina Bible
Winner:  Is #1 and giveaway is closed.
I homeschool.
Sometimes doubt, fear, negative voices, laziness, bad behavior, lack of education or training, dirty house, home repairs, not enough chocolate, lack of trust gets in the way and I wonder if I am really doing my kids justice by being their teacher? Then I walk into the living room and see that all my doubts are just that – doubts without legitimacy.
My daughter has had the hardest time learning to read.
She is such a sweet child and really tries hard to please her teacher, me. 
So, for the past few years, she just couldn't put letters together to form a word. It has been a terrible time…she just couldn't grasp the "how."   Until one day a light-bulb seem to just come on in her little head.  It was astounding – she could spell everything it seemed – all at once. Oh, the teacher inside of me went ballistic with joy! I smiled for 3 days straight! (I'm still smiling!)
And you know what she wanted to read?
Tommy Nelson Ballerina Bible
Her ballerina Bible!
It is pink (her favorite color) with ballerina shoes on the leather cover. Couldn't get more girlie that that?!
Do you know what else makes it truly special for us?
It has maps in it.
I did mention we homeschool.  We use maps – almost daily.
We needed to know where Moses and the people of Israel went after leaving Egypt.  Guess who found it first? The girl with the Ballerina Bible!  (I'm super smiling!)  She found it faster than I had time to Google it.
She now treats is like a special jewel – which it is!
Don't you just love the Word of God truly being life in your home?  
As a Tommy Nelson Mommy, I get to give away a Ballerina Bible.
Would you like one?
To enter for a chance to win the Bible:
Just leave a comment telling me if your kids use your Bible other than at Church?
©www.ilovemy5kids.com
Note: I was sent complimentary copy for review purposes only. This review has not been monetarily compensated. The review was my honest opinion and views and not influenced by the sponsor in any way.