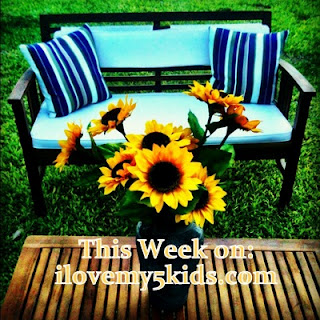 Photo by:  ilovemy5kids
This week – I plan to be super busy!
Kids have Vacation Bible School.
Can I just say, I feel like I'm getting a mini-vacation!  This is the first one that I'm not working at and I'm rather excited!  So thankful for all those teachers who are willing and able to give their time! 
Organizing kids' clothes. 
With all of our traveling lately, I have realized my kids have too many clothes.  I'm going to be selling the excess at our consignment shop or Craigslist.  The extra money will be used to pay for new homeschooling materials.
Shopping for "new to me" Homeschool materials. 
I have a whole post of books that I need to buy.  Please feel free to contact me if you have any of those and want to clear your shelves.  I'll be posting a link soon.
Selling some my Used Homeschool materials.
I'm also going to be listing some of my "used" materials in another post.  I need to clear out my shelves.  I'll be posting this link soon, too.
 Planning my school year.  This is super hard for me.  I'm a spur of the moment kind of gal.  If someone says go, I'm in the car.  I really want to be more diligent about doing some electives for my kids, i.e. photography, art, bird watching, and handmade crafts.
Planning my Fall Garden. I didn't realize how much we saved last year by having a garden.  So this year, I can't wait to start another one.


Praying that you have a restful and productive week as well!
Blessings to you!  You are loved!


©www.ilovemy5kids.com