This day was like most others  – our homeschool morning schedule was interrupted.  Regular schedule or program thrown out the window.  Well, life happens and that is okay.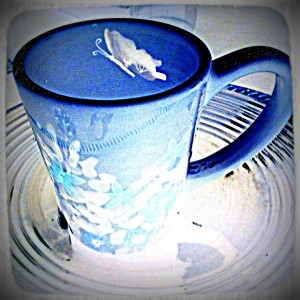 Hubby left a warm cup of creamy coffee on my nightstand. (I love hubby.)
Hubby kissed me goodbye. (I really love hubby.)
Hubby left for work.  (This makes me so sad.)
Kids are super quiet so Mommy can sleep a little more while they do their chores and their schoolwork i.e. Math, Writing and Bible reading. (I love my kids.)
Kids are too quiet.
Normal morning ends.
Eldest child is not feeling well – he goes back to bed.  School for the rest of them is now delayed.  (We work together.)
Mom has to make 10.5 phone calls for an upcoming road trip.
Mom then checks email.
Mom finds email from a company that sent her a package (a HUGE stainless steel sink) the previous day and she has to send it back.
Fed-Ex is scheduled to show up at any moment.
Somehow Mom gets dressed (she thinks)
Mom has to take the entire laptop into the office to print out a label for the huge sink mistake.
Mom finds huge mess in the office left by dogs and kids.
Mom then calls for kids (non-sick ones) to clean up the mess.
Mom then has to find packing tape to re-tape the mysterious HUGE sink in her living room.
All kids are now advised to find any tape because the Fed-Ex man could be here any moment.
Mom finds roll of packing tape in craft closet.
Mom then looks at cool coffee on nightstand and remembers the phone calls.
Mom tapes box.
Mom needs lessons on how to tape box securely.  Next time Mom will use hot glue gun.
Mom realizes she is not dressed well.
Mom then goes back to her room and checks more emails.
Mom realizes she has an appointment at 3:00 p.m. that she has to do 2 hours of work before then.
Dad sends text message that he can't come home for lunch.
Mom realizes she has not had breakfast or the cup of delicious coffee.
Mom then gets dressed a little better…like with "her" shirt this time.
Mom then goes into kitchen and makes dinner in the crock-pot.
Mom instructs kids to make their own lunch…PB and J tortilla roll-ups – their fave.
Fed-Ex man shows ups with more "gifts" and takes the HUGE sink.
Morning is officially ended.
(We are not a public school.  My kids do not learn the same way I did in school.  And that is okay.  They are also learning when one part of the body hurts or is missing – others have to take up the slack.  My 2nd born took up his brother's chores today.  It was refreshing to see him do it with joy.) 

#Sigh  I had so much more I wanted to do!  But, that is okay…life is still good and someone is getting their BIG sink soon.
iLoveMy5Kids has a new look.  It has officially changed from free Google Blogger Blog to a paid WordPress blog.
What does that mean you might be asking?  Well, it means it is easier for me to blog.  There might be a few hiccups here and there but hopefully nothing major.  I will be sending out a new post sharing some of the other neat changes as soon as I get a brief uninterrupted hour.  🙂
Blessings to you!  You are loved!