A few things I'm really liking today and hope you do too:
CRAFT:  Make your own Personalized Salad Bowl in less than 5 minutes!

[wpsr_pinterest]
On The Happy Housewife today, I'm showing how to make a super easy craft, DIY personalized salad bowl.
I must tell you a secret, it is super easy and cheap to make!
This is one of those crafts that anyone can do and it could lead to so many other crafts.
Don't you love it when you see a craft and think I can do that?
Also, if you blog and homeschool – I'm hosting a Linky Party on The Homeschool Post.  It is a new called Homeschool Blog and Tell.  This month is the "Something Red Edition."  A linky party is a fun party where you can link up one of your post.   All your post has to have is something RED in it!  Super easy and fun.  The hashtag is #HSBAT if you want to share on Twitter or Instagram.
TTD Homeschool Conference
Plus, if you homeschool and live close to Spartanburg, South Carolina, Nashville, Tennessee or Omaha, Nebraska – you might be interested in the Teach Them Diligently Homeschool Convention.  This is going to be the conference of the year! Speakers include Sally Clarkson, Pam Tebow, Ken Ham, Heidi St. John, Voddie Baucham, Tom Blackaby, Stephen Kendrick and many more.
I so want to go! We'll see what the Lord has planned.
After hours of working on it, my About Me Page is done. At least for now.  I know it probably won't mean a lot to many people, but I included CSS code.  This is a great feat.  I'm doing cartwheels.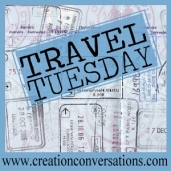 Today on Travel Tuesday – we are going to Greece!  Please come join the conversation over there!  Seriously, it is all about learning about God's creation all over the world.
I know that was a lot of announcements!  I've been a little busy and loving every minute of it.
Thank you so much for coming over here and taking time to read my blog.  It blesses my socks off!
Blessings to you!  You are loved!