Creating a Masterpiece Lessons in Pastel Review and Giveaway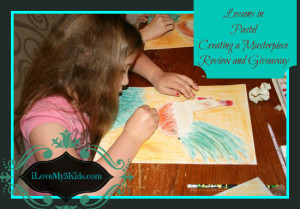 Have you ever used pastels?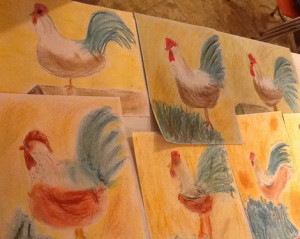 I thought they were just crayons until I listened to Sharon Hofer from Creating a Masterpiece – Lessons in Pastel explained they they are actually oil paints that will stain white couches and floors.  Guess who has a white couch with 5 kids?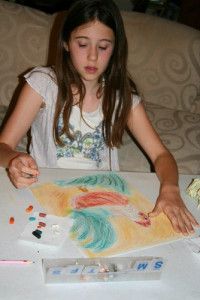 I set aside an afternoon for art class.  In fact, we had an art week.  My kids and I both had a blast!
We started the week with "Country Rooster" Lessons in Pastel by Creating a Masterpiece.  Sharon Hofer is the teacher that my kids could follow as if she was in the living room with us.  My youngest, a very busy, never sit down for more than 10 minutes 6 years old boy had no trouble following along.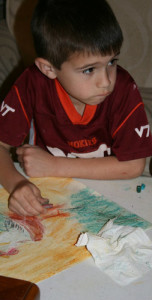 We were able to stop and rewind the DVD if we needed to hear the instructions again.  My children were able to ask me questions and since I had practiced on my own rooster before the kids did – I was able to help.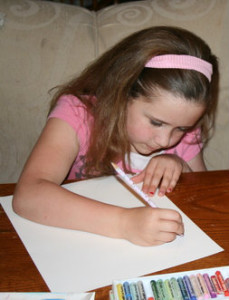 The only problem….
The only problem (which isn't really a problem unless you are like my husband and HAVE to follow all instructions) was finding the same color pastels that she used.  Our local craft store didn't carry the same brand, so we had to guess which was the closest color with the pastels that we owned.  Thankfully, pastels are very forgiving and easy to blend if you choose the wrong color.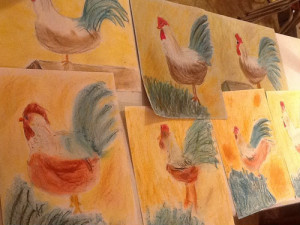 I asked my children what they learned:
14 year old – "How to blend pastels."
12 year old – "I learned how many colors are used to paint something."
11 year old – "How to sketch."  She went on to paint a Palm Tree with pastels.
8 year old – "That pastels should be broken into small pieces."
6 year old – "That even I could paint a rooster."
Guess what?!
Creating a Masterpiece wants to give one of iLoveMy5Kids a FREE DVD!
If you would like to win leave a comment on this blog post telling me if you have ever painted with pastels.  One comment per family please. You must be 18 and older to win.  And The Winner Is will be selecting a winner after April 2, 2013.  Only residents who have a US mailbox.  No international winners, sorry – Charlie.
Blessings to you!  You are loved!

No couches were hurt or harmed in anyway creating this art project.
Note: I may have been sent complimentary copy for review purposes only. Any links can be affiliates meaning if you buy something I might get some pennies. This review has been compensated. The review was my honest opinion and views and not influenced by the sponsor in any way.