My sister in law gave me this recipe for a super easy chicken pot pie and it was a homerun in my family.  (I love having family recipes that work for everyone.)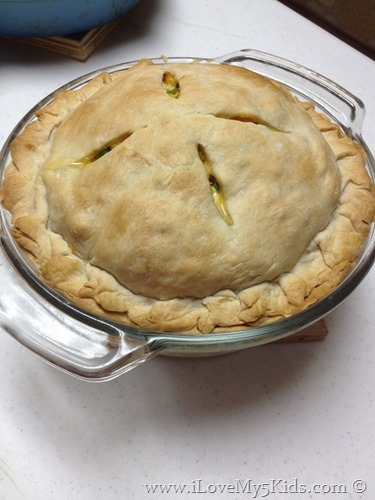 Not to mention – super easy!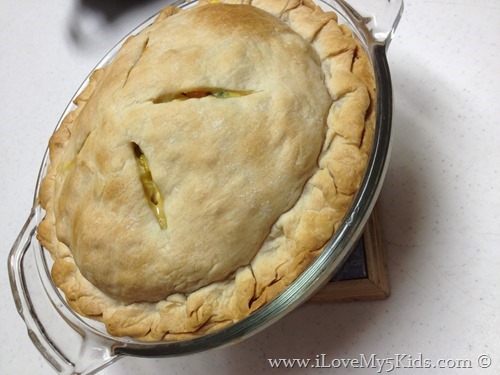 Making it a grand slam for me!
Without further ado…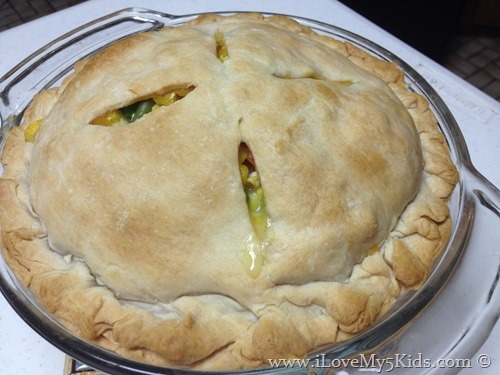 Chicken Pot Pie
Ingredients:
Chopped Chicken (I used about 3 breasts leftover from the night before.)
Frozen Vegatables (One small bag.)
Velveeta (half of block)
Cream of Chicken – 1 can
Pie Crusts (Refrigerated that come 2 in a box.)
1/2 can Rotel (I didn't use this but my SIL does.)
Directions:
Lay out bottom crust in a deep dish pie plate.
Add ingredients to a bowl.  Mix well.
Lay out on the bottom crust.
Top with 2nd crust.  Pinch edges together.
Slice four holes for steam to escape.
Bake as directed on pie crust instructions.  I baked for 425° until a golden brown.
Serve with salad as a side salad and enjoy!
The second time I made it – I made it in a lasagna pan without a bottom crust and it was excellent!
Note:
Normally I try NOT to use velveeta – even though I LOVE the stuff.  I would try a spicy cheese, Italian cheeses or even cream cheese.  But, I like velveeta because it melts like no other and reminds me of childhood.
Can I mention how much I LOVE easy recipes?!?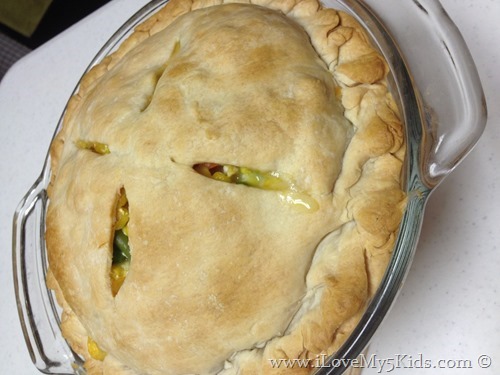 Blessings to you!  You are loved!