I am loving this season!  Plus, I couldn't wait to get out of November, that month couldn't go by fast enough!
Advent is here! I love Advent!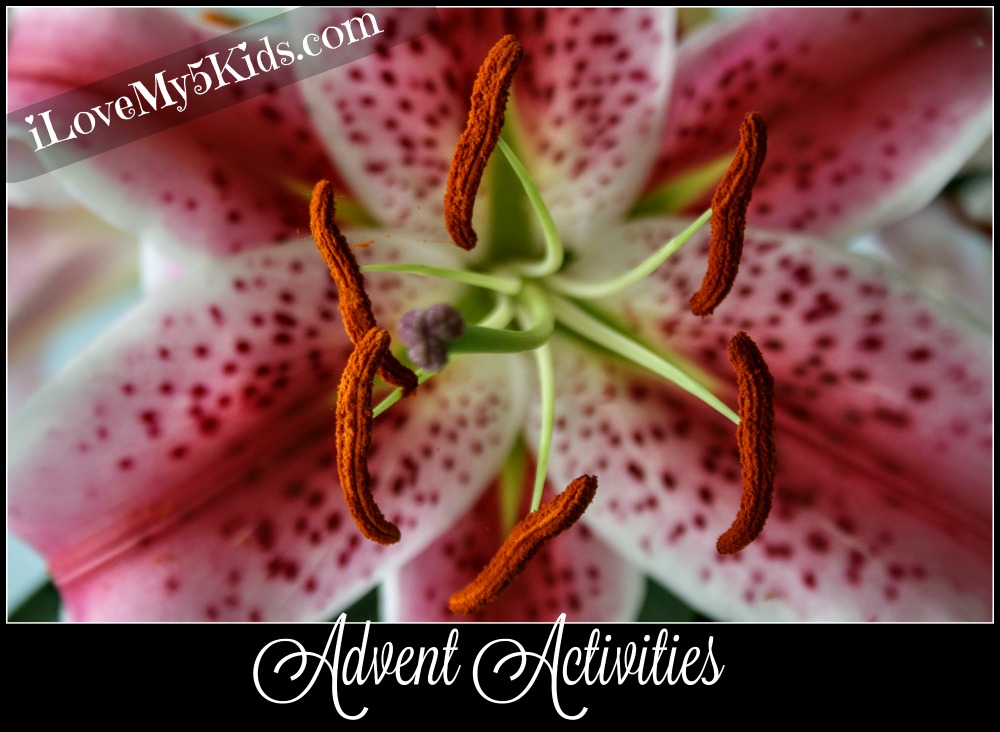 Every year we have Christmas, a time to celebrate Christ's birth.  But, honestly, it just has become too commercial for my heart.
Now don't get me wrong, I do put up Christmas decorations.  In fact, we try to put up 7 Christmas trees.  I love all the ornaments, the excitement and the symbolization.  But, since every store does the same decor – the meanings have seemed to have less meaning.
That is where I put my flip flop down.  (Hey, we live in a warm climate, we wear flip flops in December.)
Now to my understanding, some of my  Catholic friends have been celebrating Advent for some time.  But, us Protestants (at least in my home) have just now caught on to this awesome ritual.  And when I say ritual, it is a sweet system that brings our hearts to the true meaning of Christmas.
And it is so SIMPLE!
Advent:  ad·vent
noun

the arrival of a notable person, thing, or event.
We started last night.  You are actually supposed to start on a Sunday. But, hey we are a little late – no worries, we just have to read a little more to catch up.
We had a Jesus meeting at our kitchen table.  It was beautiful.  After eating sour cream enchiladas, we were able to read scripture in the glow of one candle burning in the middle of the table.  (I didn't use traditional Advent Candles, I used 3 red ones and 1 silver leftover from the holidays last year and placed them on a scratched up red plate that I found in 5 minutes.  I like simple!)
We spoke of the Christmas symbols and what they mean and read our Advent scriptures that will lead us up to Christmas Day.  Hoping our hearts truly have focused on Him.
Evergreens, wreaths, Christmas colors- red and green, bells, and many more.
Evergreens – Christmas tree.  Ever greens stay strong.  They never lose their leaves.  They are eternal and full of life.  Everlasting life.
Wreaths – They are never ending. Victory. They used to be put on doorposts of Christians.  They are eternal.
Red – like the blood of Jesus.  A sacrifice.
Green – Growth.  Fresh.  New life.
Candy Canes – Shepherds hook.  J for Jesus. Striped for Him.
Bells – Alerts someone is coming, whether or at the door.  Announces the coming!
These were just a few we discussed.
I have a feeling this Christmas is going to mean so much more because we are relishing on the true meanings of each symbol.
Not to mention, giving.
That was my favorite.
We get to give to others.  And bless others who might need us.  Finding ways to bless others not in just our home but others who we need to see Jesus and need some extra loving.
I just want people to know love.  True abounding love and grace.
Every day we want to do an activity that represents Christ!
Ann VosKamp has the most awesome Advent Wreath that she uses during Lent and Easter.  I love it but seriously not necessary.  Simple is my mantra this season.
Some Advent activities we plan on doing: (but are okay if they don't happen)
Giving to a family who needs some extra loving.
Our Jesse Tree!  Here is a free printable we used years ago.
Decorating our house with purpose including our Christmas village in our Coffee Bar.
Cookie making with friends.  I love friends over who laugh and make our home feel a little more homey.

Enjoying Friends that come in from out of town.
Christmas Lights (with the scavenger hunt below!)
Some other Advent activities (maybe for next year or maybe not.)
Oh I pray you have a sweet Christmas!  One that truly focuses on the heart!
Blessings to you!  You are loved!