Disclosure:  I have been sent complimentary copy for review purposes only. Any links can be affiliates meaning if you buy something I might get some pennies. This review has not been monetarily compensated. The review was my honest opinion and views were not influenced by the sponsor in any way.
This past summer, I was on a journey.   I needed wisdom and begged the Lord to send me on the right path.  I have 5 kids that have only been homeschooled and I felt extremely inept at this educational milestone, college readiness and entrance exams.
Plus, I needed information how to afford college.  Did I mention 5 kids?  I was thinking I might have to sell our house and not eat for a few years to afford college.
I attended every college prep and SAT/ACT test and scholarship seminar I could find at multiple Texas homeschool conferences.
While in Houston at the THSC convention, I met the author, Jean Burk.  For some reason, I caught this wise lady when no one was at her booth and she gave me at least 45 minutes of her time explaining what I needed to do to prepare for the PSAT, SAT and the ACT.  I just stood there with my mouth open and tried to soak up all the knowledge she was giving me.
That encounter with Jean Burk probably changed my kids' futures.
Let me introduce you to College Prep Genius.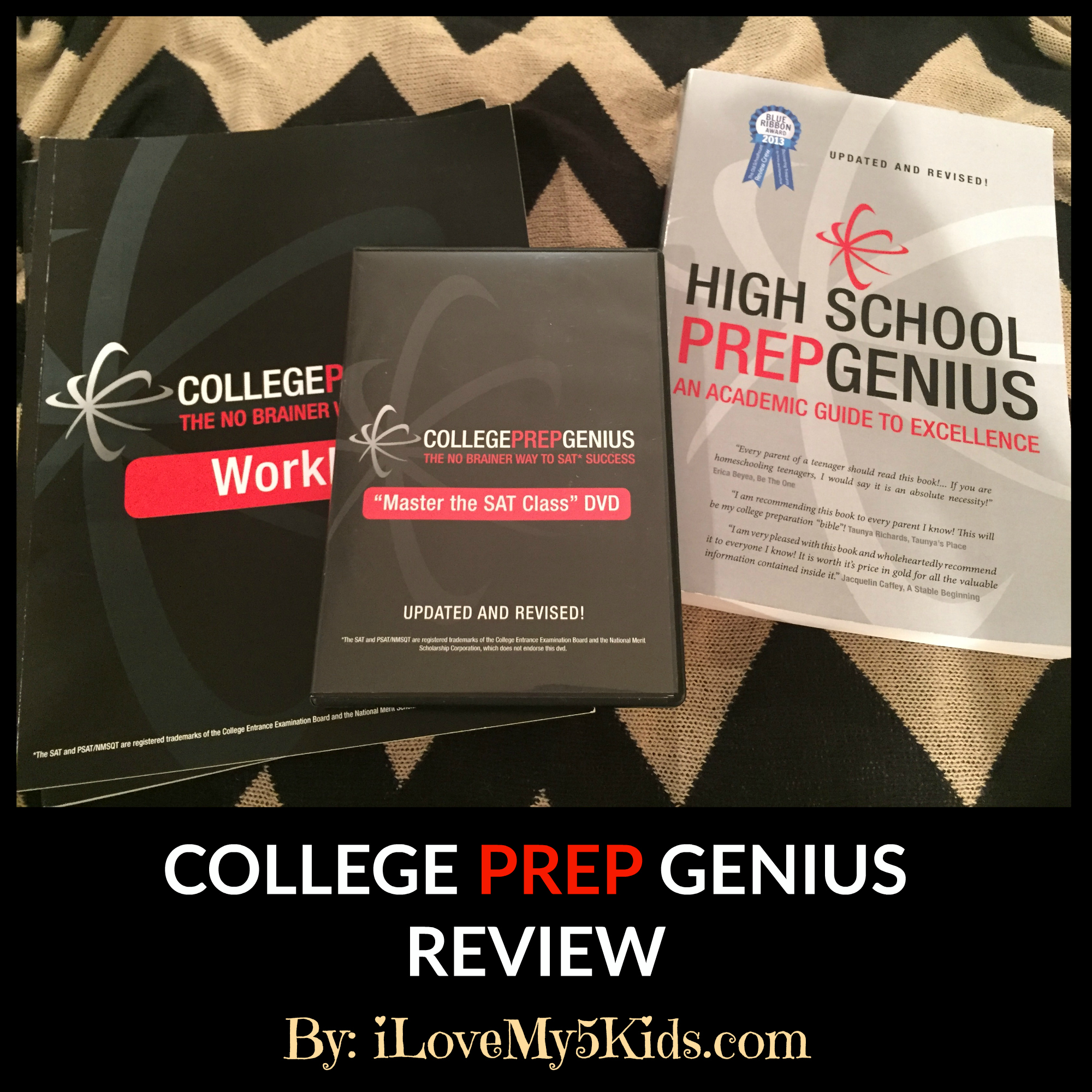 Let me first explain what the College Prep Genius is:
It is a program that helps prepare a student for the PSAT/SAT/ACT ANY test!  (I'm sure there are some tests that are not included but right now, I can't think of any.)  She gives strategies to conquer the test questions with ease and confidence.  Secretly, I want to go back and try the test now.  AND I hate tests!
The entire SAT Course includes:
College Prep Genius Textbook
College Prep Genius Workbook
"Master the SAT Class" DVD
High School Prep Genius
VocabCafe Series Set:

Summer of Saint Nick
IM for Murder
Operation High school
Planet Exile
Highway to Hollywood
The Wandering Watkins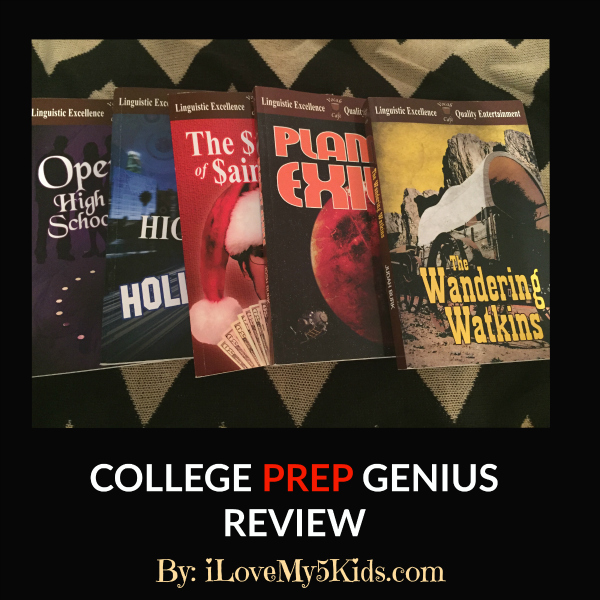 My kids have never taken a test before.  This course prepared them how to answer correctly for a logical test.  Although my son's answers were not all correct when he took the PSAT test – it taught him the basis to look for the best strategy.
The VocabCafe Series has been amazing to show new vocabulary lingo that we can use in normal conversation and helps prepare for the SAT test.  Plus, they are stories that I don't have to worry about any "adult" issues if they take the book to the other room and read to their younger siblings.  I found my kids reading the "vocabulary" books even when it wasn't school time.  (Can you ask for a better way to learn?)
It was easy to add to our already busy and crazy school schedule.  My son finished the course in 6 weeks.  Although, I am thinking he will go through it one more time.  Next time, I'm sure he will see things he missed before.
The books and workbooks were simple to read and to follow along.  The ease for my son to catch on to her style of writing was another blessing.  It was written for the student to understand without a lot of direction from the parent.  (Can I hear an Amen, Hallelujah?!)
Scholarship opportunities.  (Okay, we are not there yet!) My son took the PSAT as a 10th grader – however his grades were in 90+ percentile.  Only 11th graders are eligible for the National Merit Scholarship, which is one of our goals.
After the PSAT test, my son also took the TSI (Texas State Initiative) Assessment Test, which he also passed with flying colors and now is able to take college courses.  I attribute his test scores to this course and his love of learning.  Before this course, I have never taught my kids to take tests.  We just never needed them before…if they didn't understand something we studied it until they caught on to the concepts.
The learning material gave in detail how the test was written (minus the exact questions.) So my son was prepared on test day versus some of his friends who didn't know what to expect.
The other true benefit I loved is that the author is easy to reach if you have questions.  That is a huge plus, when you are unsure what you are doing and someone who has "lived" through it can give you direction.
I feel like this was a jewel and the Lord directed me right to it.
If you have any questions,  feel free to ask – I would love to answer!


Here is a sample of how College Prep Genius, starring Jean Burk, on Dallas news –
(sometimes it is just easier to see it in person.)

About the College Prep Author, Jean Burk:
SAT Instructor, Jean Burk, is a homeschooling mother and creator of the revolutionary College Prep Genius curriculum which has helped thousands of high school students prepare for the SAT & PSAT/NMSQT. Her expertise has been featured on FOX as a news contributor, CBS, NBC, TXA21, and The Homeschool Channel. She also serves as a frequent contributor to newspapers, magazines, educational resources, and online publications. Jean currently travels across the United States and abroad teaching students how to improve their standardized test scores and speaking to parents about how to get college for FREE!

As a single income family, Jean Burk and her husband did not have the financial resources to send their children to college. When Jean discovered the SAT & PSAT were the keys to getting huge scholarships, she began to research the test to understand how to prepare her children for it. She discovered that these tests could be taught! They weren't IQ tests, but rather critical thinking exams. After both her children received full scholarships, Jean began teaching these secrets to other homeschooling, public school, and private school students alike. Her program College Prep Genius is the culmination of more than a decade of research, classroom experience and SAT expertise and extends worldwide.

Follow College Prep Genius on Facebook, Twitter, and on YouTube.
If you would like to have Jean Burk speak before your group or organization, please contact [email protected]or 817-282-PREP (7737).
If you feel this would benefit someone you know, please show them this article.  Sharing is caring!  😉
Blessings to you!  You are loved!
Take a look at my other Homeschooling High School series: