I have homeschooled all my kids' lives.  Plus, my Mom homeschooled my siblings (not me) so I have been versed in homeschooling for quite a long time.  Like over 20 years.  Wow, I feel so old all of a sudden!
With all those years experience, something happened that I didn't plan for…high school records and transcripts.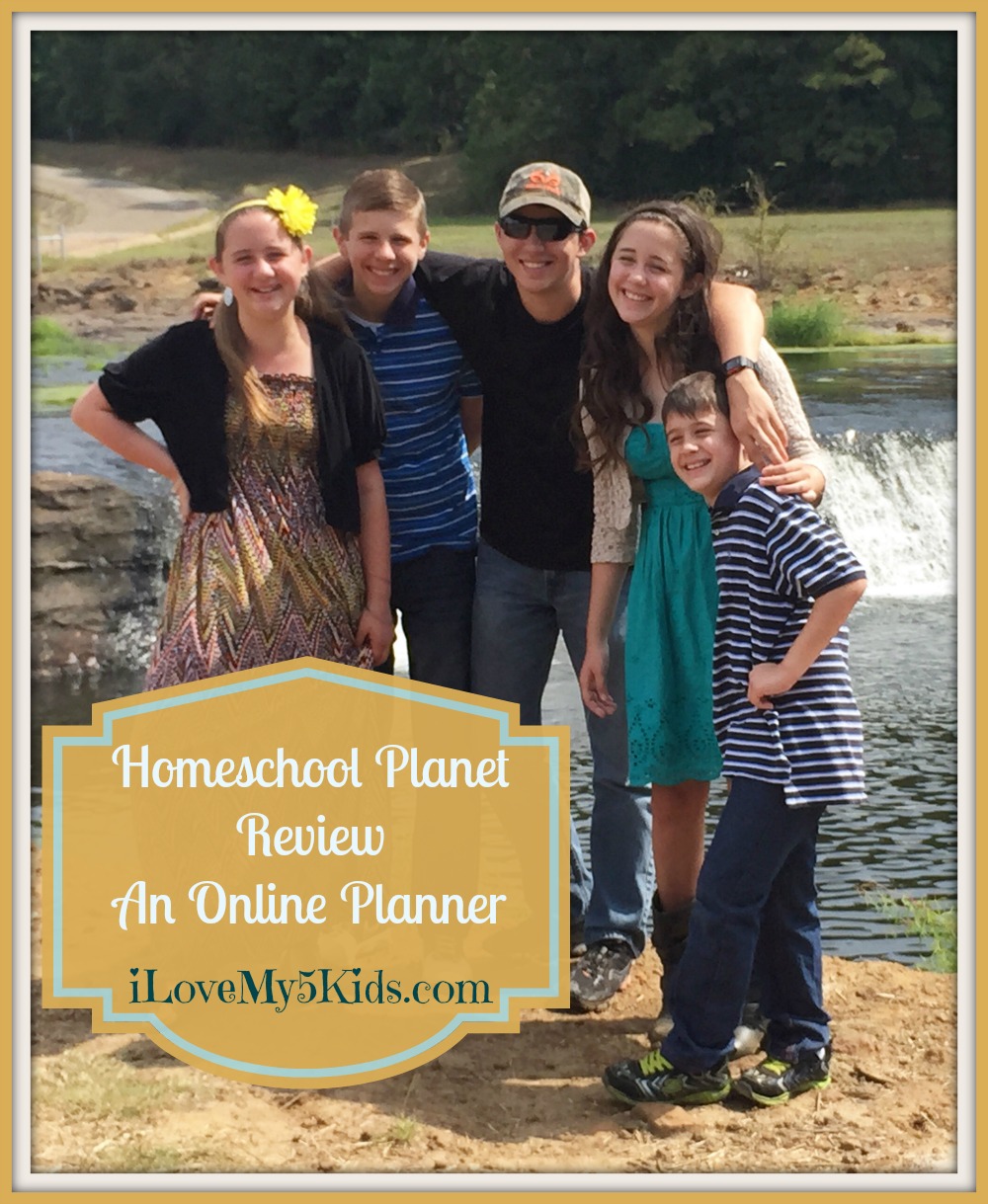 Disclosure:  I have been sent complimentary copy for review purposes only. Any links can be affiliates meaning if you buy something I might get some pennies. This review has been monetarily compensated. The review was my honest opinion and views were not influenced by the sponsor in any way.
I knew we would need a transcript for college.  For someone who normally doesn't grade or keep good records, this was a stretch for me.
Then one day, my husband walks in the house and says we have to change car insurance because adding a 16 year old to our policy has over doubled, almost tripled our rates.  Then he said we get a discount if I can give our new insurance a copy of my son's grades.  GULP!
I assumed the transcript would happen naturally and magically just appear on a spreadsheet.  It doesn't.  (No matter how hard I prayed.)
Then this opportunity to review Homeschool Planet, dropped in my lap.  Oh it couldn't have happened at a better time!
Let me share some benefits of the Homeschool Planet and why it worked for us.
Homeschool Planet is an online homeschool planner that can be used for an entire family.  Personally, I am using it for my high school students at the moment.  In our state, we do not need to keep records so it is for the sole purpose of scholarships, discounts and college preparation.
The planner is super user friendly.

My son was standing over my shoulder as I entered information and caught on quickly how to enter information.
It is easy to change the colors of the template to your mood.  For my visual brain, this is important.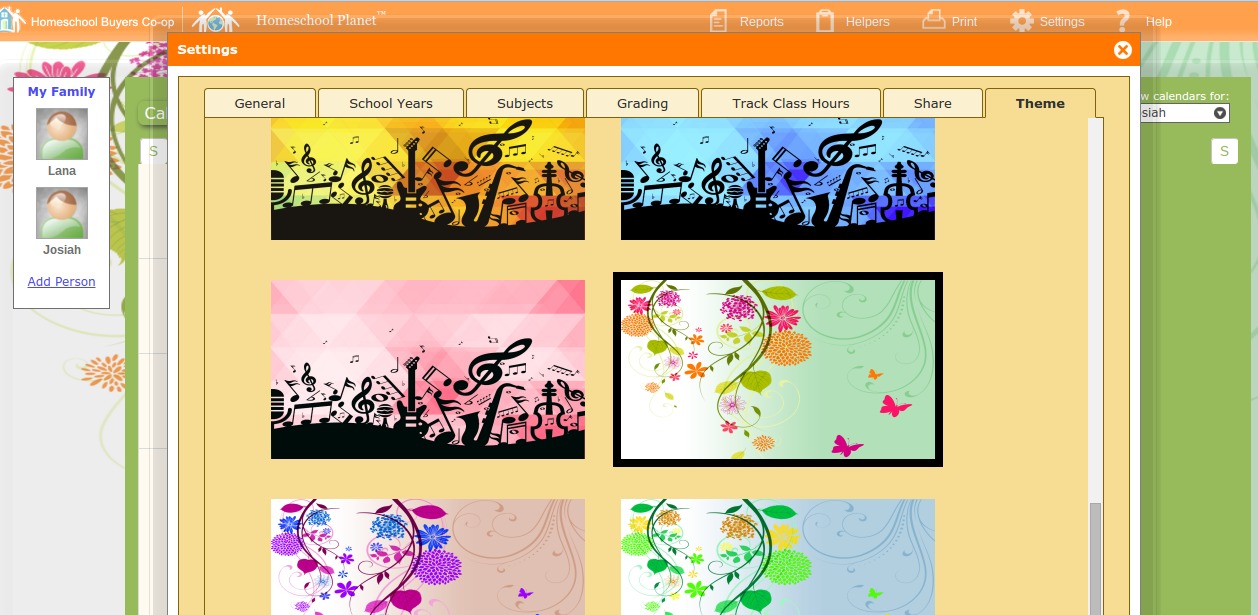 I need bright colors during the winter. This has nothing to do with grades but sometimes my creativity gene needs a little variety.  Some people are probably fine with black and white but I like spice!
The planner will send daily or weekly emails to you and/or your student to remind them of their tasks.  Tasks can be anything from assignments (which I don't put in the program), tests, activities, reading, resources, etc…This is great if you are like me and forget to remind your student that he has a huge test i.e. the SAT coming up!
Not that has ever happened in our household.  <wink!>
You have to option to turn on the daily digest, weekly digest or no notifications as needed.
It will keep your grades for all your students.  (It will NOT average or compose the grades.)
It will make nice professional transcripts, and other reports needed.  For those states who have to keep a minimum amount of days, I could see this being real handy.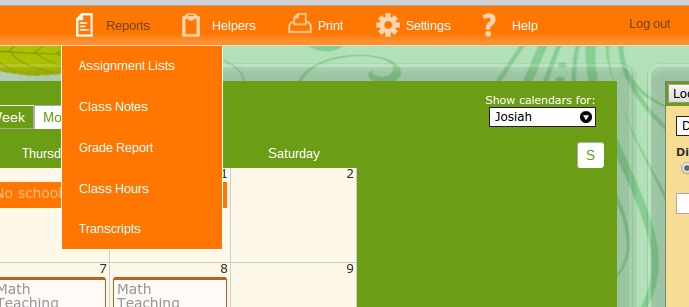 There is the option of adding the grades yourself or just inserting the grades that are entered weekly.
My Reasoning for NOT keeping records in the past!
One of the main reasons I have been reluctant in keeping records in the past, is I follow My Father's World curriculum and they already have written lesson plans.  I didn't want to do double work by copying what was already done for me by entering it in some program.  That would have been double work for me and very time consuming.
The way we grade: is my kids have to master the subject or if it is like Math, they have to make an A (90) to continue on in their lessons.  So I didn't see a need for reinventing the wheel, so to speak by recopying their lesson plans.  I just needed the grades to be recorded, which they kids were doing by entering it in their written lesson plans.
So it didn't seem like I needed to keep "more" records.
However, I realized (since our car insurance changed and they requested grades) that we have taught our children much more than book-work that didn't necessarily have a grade but could count on transcripts and we needed proof that the grades did exist.
PLUS the extra grades that didn't involve our "lesson plans…"
My boys have the knowledge and experience of remodeling a kitchen, tiling a bathroom, hanging Sheetrock, wiring electricity, and much more due to our first and now our second home remodel.  This was not in our book curriculum but should be on their transcripts.  (Most wives would love for their husbands to have their knowledge and experience.)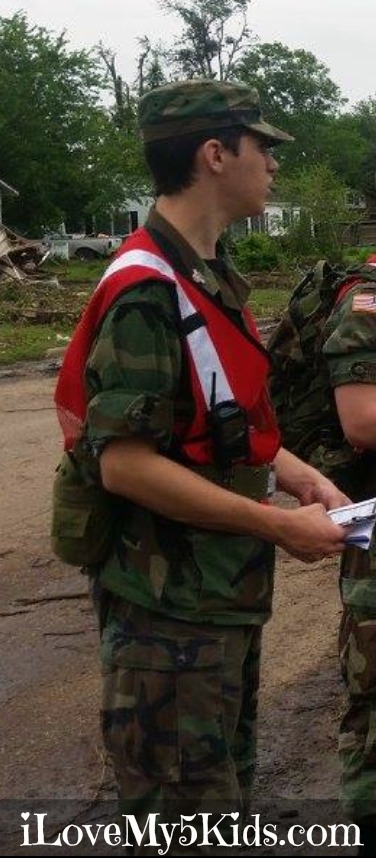 My eldest son is also very involved in an extracurricular activity called Civil Air Patrol, an auxiliary of the United States Air Force.  He volunteers many hours and has received certifications with the Red Cross.
He is wanting to be a commercial pilot so his training is viable for his future and hopeful scholarships.
I needed to make sure I had a place for these subjects and his extracurricular training so I wouldn't forget.  Having 5 kids – I am bound to forget something.
The way I used the program (which is still subject to change) is for record keeping, making report cards and transcripts.  (However, you are able to use it for so much more!)
One more benefit of using Homeschool Planet!
Another great perk of this program is it is kept on the web.  Nothing to download.  It can be accessed with any computer.  Plus, there is a 30-day free trial.  Who doesn't like a free trial?!  After that the cost is $65 a year plus a 1000 points on Homeschool Buyers Co-op.
I have used many resources on the Homeschool Buyers Co-op but that is for a different post.
You can also follow the Homeschool Planet on social media:
To order use this link:
ORGANIZE YOUR WORLD + GET 1,000 SMARTPOINTS on Homeschool Planet
Please feel free to ask questions!  I love seeing what others are using as well!
Blessings to you!  You are loved!