Being ill stinks!  I've been bedridden since Monday with some delightful virus and all I can do is count my blessings.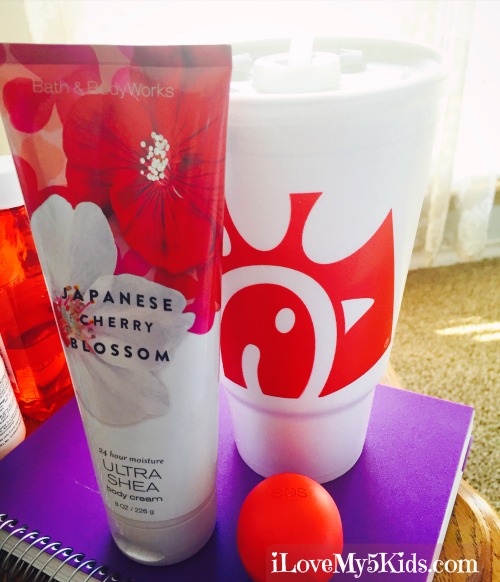 Japanese Cherry Blossom body cream (I try to use Ebates when buying from Bath and Body Works), my EOS lip balm and I hate to admit it, my sweet tea from Chick-Fil-A are my newest friends who don't leave my side.  I haven't had sugar in forever and just needed a this one drink.  I sound like a person who needs to go to  AA  SWA – Sweet Tea Anonymous.  <Insert laughter here!> I love being a part of the #ChickFilAMoms – it gives me a reason for my habit. But, after this week – I will need a sugar detox.
My eldest daughter, who is a born teacher – took up my slack in homeschooling. I could hear her in the other room reading to her younger siblings about King James.  He wasn't the most gracious man and I could hear them talking among themselves agreeing about what a man who wasn't very kind yet made an historical feat with the King James Bible.  Just the discussion alone, made my heart leap.  I love that they were able to carry on a conversation about a piece of history and give their insights liberally.
I want my kids to learn and have a genuine love for learning.  To see their little heads fill up with useless trivia is not my objective.  I want them to experience life as a Berean – to study things out for themselves and not follow the pack.  I want them to understand why cultures clash.  I want them to be able to spread the Word of God with a relevance to each culture or nation with a kindness like our Lord bestows.  I want them to love the Lord with their whole heart, knowing that when they fail (and they will, who doesn't?), the Father already knows and loves them regardless.  I want them grow with character, stature, and love for everyone.
This week, I was able to sit back and see fruit of my years of labor.
I didn't have a choice.  
I was truly knocked down and was incapable of being the teacher, mom, wife and friend that is my normal routine.  I had fever of over 104, I couldn't talk or swallow, my body ached and I just needed total rest.
Just now, I am truly seeing all the things that my family has done…
My hubby has made a THM menu and is grocery shopping tonight.  The other kids are likewise amazing – making sure I'm hydrated, emptying my trash and giving me the mail.  I am talking "spoiled."   Even when they had a disagreement (see they are real), they kept it quiet and called their Dad on the phone.  I had no idea.  That my friends, is the cherry on the Hot Fudge chocolate sundae.  I capitalized the Hot Fudge on purpose.  It makes me rejoice even though it is not proper grammar.
I went into the living room and it is extraordinary clean. Having a clean living room – especially dusted, makes me want to sing like Mary Poppins.
These kids, who I have poured every ounce of my energy into, are now pouring into me. I hear them laughing in the other room – and it just warms my heart to the very core.