This might not seem important to many people. But, one of my Gladiolas decided to bloom in October.
I came home from Dallas and this was the first thing I saw. (Never mind the weeds, the Gardner, [me] seems to be on hiatus.)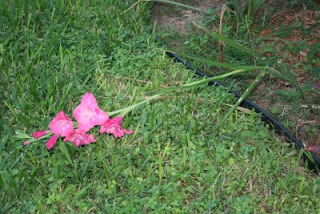 I had to help it up by leaning it against my fall banner. It looked much better.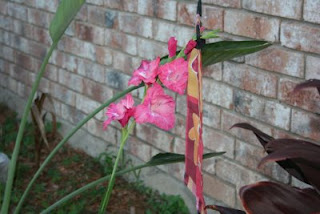 You see, I planted the bulb in early spring. The leaves came up but no flower. I just left the leaves, hoping it would bloom next spring. All the other flowers bloomed perfectly.
But, this one was on it's own schedule.
I feel that there is a great lesson in this.
Proverbs 12:21, Many are the plans in a man's heart, but it is the Lord's purpose that prevails.
This flower was originally in my spring landscaping plan but the Lord's purpose for it was to bloom in His time which seemed to be in fall .
When I saw the bloom, I realized, God still has ultimate control and a purpose,
whether in parenting, politics, or even my parking space.
Not to mention, He just decided to bless me with a little treat of my favorite flower in my favorite season.
How good the Lord is!