Fence building
has still been a process here.
We interrupted our daily lunch ritual to come and see the "tractors" move our trees.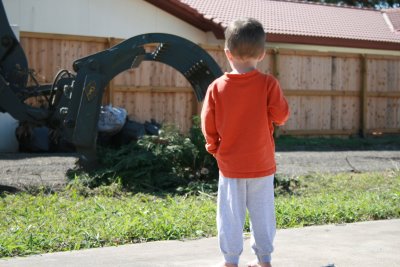 The baby loved the tractors hard at work. It's amazing what can excite us.
Our tax dollars hard at work. Taking opportunity to teach my kids, we were able to talk about the advantages and disadvantages of living in the city versus living in the country. I'm a city girl having been raised in the country but seem to be raising a country boy in the city.
Princess is getting on the job training to be a supervisor.
He is either saying "thank you" or "you missed one."
He is now saying, "Now, you got it" or "Your welcome."

A little ballet during pick-up time.
Thank you goes to our city for picking up our brush. You did a GREAT job!