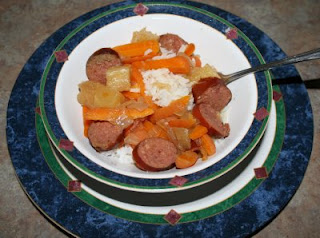 I don't like green eggs and ham.
I don't like them because I don't care for pork anything.
Well, I like bacon and pepperoni pizza.
And…I like pigs in a blanket.
Oh, and I like Spiral Sliced Ham as well.
Okay I like some pork.
But, my sausage – I like it to be beef or turkey.
Unless I don't know it and then it is okay.
When I first saw this recipe – I was kind of hesitant.
But, I got to tell you – DELICIOUS!
In my family of 7, it got 6 thumbs up.
(I'm still looking for the perfect recipe that everyone likes.)
I have got some picky eaters but they still eat and try everything!
My blondie said that "this was the best dinner ever!"
Did I need to mention this is done in
the crockpot
–
so your kitchen stays cool in the HOT summer? Yippee
!
EASY Sweet and Sour Crockpot Sausage
2 packages of fully cooked sausage, sliced
(We used Hickory Farms smoked Beef Sausage)
1 can pineapple chunks in juice
3 cups of quartered baby carrots (Cut them lengthwise)
1 med onion, small chunks
1/3 cup packed brown sugar
1/4 tsp garlic powder
1 Tbsp soy sauce
1/4 tsp ground ginger
1 cube of chicken bouillon
Rice (I used white 5 minute rice)
Add everything into
the crockpot
except rice. Cook on low for 4 to 5 hours.
Serve over rice.
YUMMY for my TUMMY!  Wasn't that EASY???
Blessings to you! You are loved!