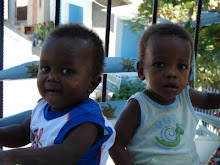 My real life friend, Stephanie and her family, have been adopting her boys from Haiti for over a year. After much prayer, red tape, phone calls, waiting, earthquakes and then more red tape, then even more prayer, they are finally reuniting tonight in Miami.
I can't tell you how my heart is rejoicing for Stephanie. Her husband sent out a prayer letter this morning, asking for specific prayers for their family…I thought if you would like to know how exactly you could pray for people in Haiti, this could be it.
Please pray for them as they say goodbye to the only home they have ever known. Please pray for us to be sensitive to their needs during this time of transition. Please pray for the many details of travel – theirs, ours, and finally our journey home together.
They are actually missionaries in Chile, so they are needing passports for the boys to go there. They will be asking the United States government for this if not they have to obtain visas from the Chilean embassy in Miami.
Here is a link to her blog, if you would like to see some awesome testimonies and pictures. Be prepared to have a tissue handy.
Blessings to you!!! You are loved!!!

©www.ilovemy5kids.blogspot.com