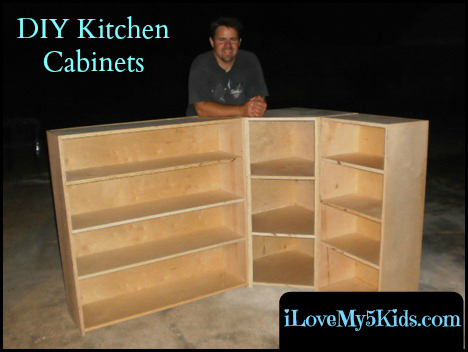 When the postman rings our doorbell – we the kids race to the door!
No child is allowed to open the front door unless the parents give their permission!  (The trusty postman has seen us in our jammies more than most of our closest friends.)
Saturday, when he rang our trusty doorbell  – I was in the shower.
How come every time I take a shower – people decide to ring our doorbell?   I think there must be a neon sign on our house that states "Lana is taking her weekly shower!  Ring Doorbell NOW!"
Don't worry- this time, my hubs was home.  How many times have you been caught in the shower and either the doorbell or phone rings?  That is in my top 10 of Most Aggravating things that happen to Moms.
Our sweet postman brought us not only bills but a doorknob (from EBAY) for our kitchen pantry door.
I love EBAY – 1/2 of the cost of going to a Retail Store!  I now I will have no more splinters – when getting the nutella out of the pantry.
In other news:
We couldn't paint the kitchen upper cabinets this weekend because the wind was outrageous and all the painting is done outside.  But, I'll share a few more pictures…


This lonely guy looks kind of short in this picture…let me show you where he will be placed after he gets some clothes on (aka paint.)  I might call him, WALL-E.
   Isn't he going to be pretty?  Oh, wait, my hubs is in the way…
Isn't this better?  He's a big baby!  He will hold coffee cups and party supplies.  I can't wait for him to be in our home.  I'm such a proud Mommy!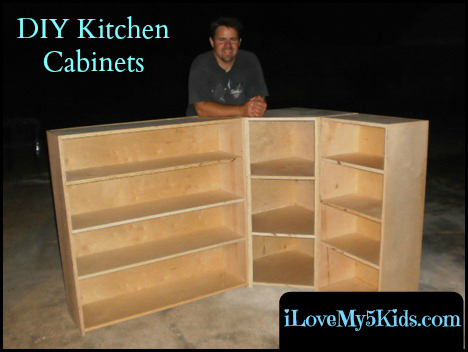 And these big guys – Oh man!  They are just going to transform the kitchen from being undone to being finished!  I might call them the DEFENSIVE LINE!
I just love that my hubs has learned this craft!  (That doesn't mean I want to do this again-anytime soon!)
For those wondering:
The wood used was bought at a local lumberyard.  It was much cheaper than a Box Store.

The type of wood that was used is called China Burch 3/4″ plywood.  Each sheet was about $30.00 and we have thus far used 16.

The tools that were used a table saw, finish nailer, nails, wood glue, dado blade (cuts groove so one board can slide into another one), sander and lots of chocolate.

Our quality of cabinets is top of the line and total custom made.
What I have learned:
Don't count on the box store to be cheaper or better made.

Calling around and getting prices is worth it!

My hubs rocks at wood-working!

The clothes dryer picks up pieces of wood shavings that the washer misses.

Wood shavings can really hurt a person when retained on a bath towel from a washing machine.
Just to give noses everywhere a relief:
Lana does take more than one shower a week.
Blessings to you!  You are loved!!!
To see the beginning of our Remodel go HERE!