Have you ever wanted to learn how to tile backsplash?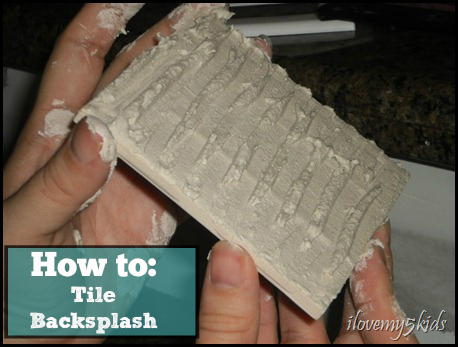 It is super easy!
First – Marry a husband like mine.
Second – Tell him you want more space for your 5 kids in the kitchen.
Third – He'll jump at the chance to tear out walls and please his Queen.
Voila!
What?  It didn't work out for you?  Okay, it might not work exactly like that….
Let me show you the harder way…me doing it.
(Caution:  I'm not a professional.  I probably make the pros cringe with my terminology.  I'm open for suggestions and feedback!)
This is the backside of a tile.  The white stuff on my hand is thin-set.
Spread the thin-set like butter on bread.  Lather it good.  Make sure it is even.  If it isn't then your tile will be tilted and look funny.  If the wall is crooked – sometimes that might be a good thing.  But, not usually. 
I pretend it is white chocolate.  It makes my work go faster.  I'm okay with that!
This is one that has been
buttered
correctly.  Don't eat it.  Your insides won't like you!
Apply to wall.  Push gently.  I broke one.  ONE!  I blamed my brother who lives far far away…and had nothing to do with my tiling.  But, it felt good to blame someone else not in the vicinity.  You can blame him too!  He'll never know.  I call him – Brat!  (I love my brother…he might read this…or someone might tell him…Brat, you are loved!)
We didn't have the normal little crosses or spacers to spread our tile apart.  So we used broken popsicle sticks.  This was my hubby's idea.  It worked too!  But, I like the spacers better.
See how cute they are…I'm sure if my hubby knew I called them cute – he would have halted the project to run to Lowe's to buy the spacers.  So CUTE!!!
  This is what the wall looked like naked…
Half-way dolled up!
Don't let me fool you…my hubby did most of this work.  I will do the grouting.  I like grouting so much more!
  Isn't it looking gorgeous!  Just wait for the grout…it will look finished!
The side by the sink was a little more trickier!  We had to make sure we had a straight line…sounds easier said than actually done!
Before the tile:
After the tile.
We are not done!
We still have to grout – which happens to be my favorite part!
I can't wait to show you our special back-splash behind the stove…gorgeous!
Stay tuned…
If you like feel free to like on StumbleUpon:

 Look at some of our other projects…
Blessings to you!  You are loved!
Partying with:
The Thrifty Home
Savvy Southern Style 
Funky Junk Interiors