How to build a Bean Tepee!
Every week we try a new project for the kids (and adults).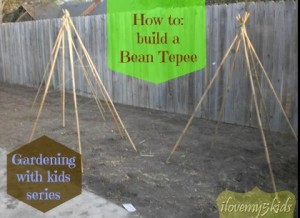 This week was Bean Teepees.
Since we are working with two other families, we made three teepees.
We found Bamboo sticks at a local gardening store.
(
Cheap tip
:  Shop around for Bamboo – at the local Box store – Bamboo was 7 times more .)
We used twine to tie the sticks together at the top.  Actually, the kids tied the twine.  We then wrapped more twine all the way around.
Then the kids planted three beans per pole.    Now we are waiting for the plants.  I'll update as soon as we have plants.
We planted the beans next to the sunflower garden.  Oh, this is going to be my favorite.  Five rows of different sunflowers from 12 feet to 1 foot.
It will be like a secret garden.  Oh, I can't wait.  I guess I'm not a patient farmer.
Blessings to you!  You are loved!