Instead of birthday cake…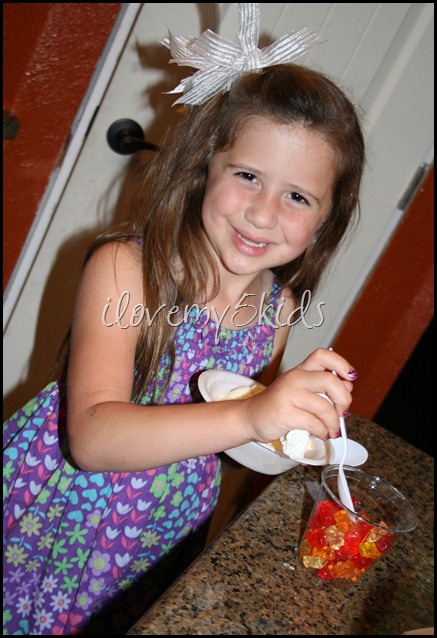 (Not this Princess but the other Princess had a birthday – just wanted to clarify for the sake of their non-existent baby books.)
Our Princess had a party this past weekend.  Instead of birthday cake, she usually chooses something else that is fun and sweet.
This year we had an ICE CREAM BAR.
It was a complete HIT!
We had hot dogs for dinner!
(Turkey dogs, without nitrates or nitrites – because I had to redeem myself for serving the huge amounts of ice cream!)

We had the following lined up so each girl (or brother) could fix their own on the Ice Cream Bar:
Strawberry Syrup
Chocolate Syrup
Oreos (Whole and Crushed)
Gummy Bears  (Fat Free, the healthiest thing on the Bar)
Marshmallows
Graham Crackers (Crushed)
M & M's
Green Sprinkles
Yes, they had a little sugar high.  It was worth it!
Some of the girls went crazy!  Some were very conservative.
To each her own…
or his own!
Overall, I would say this party is one of Mommy's easiest to prepare and to have.
  I just love when everything comes together and I get a nap the next day.
Blessings to you!  You are loved!