Have you ever heard of a Resurrection Garden?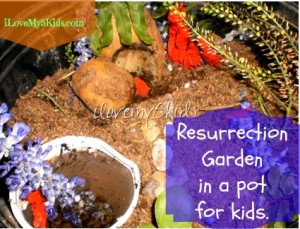 This has to be one of the neatest projects for kids and adults alike.
I started off by naming some famous gardens in the Bible.
Some interesting tidbits about the gardens:
Garden of Eden – The first garden.  God placed man there.  First surgery was performed there.  Only one tree was off-limits!
Babylonian Hanging Garden – One of the 7 wonders of the world.  Husband made for his Bride!  Gorgeous!
Garden of Gethsemane – Means Olive press.  Jesus prayed here with great agony – even sweating drops of blood.
I had the kids make their own.  (We are part of a small group that meets together once a week – so the pictures are from the different families.)
They had to gather materials from around the yard and design it.  Nothing they did was considered "wrong."  I loved seeing their imaginations run wild.
Inside each pot – was a potato which my hubby had carved out a "tomb."  On Easter morning they can roll away the "stone" and see it is empty!
T's Family Garden – They had the most flowers.  Love the colors!
C's Family's Garden.  I love all the rocks.  Reminds me of Jesus being the Petra!  Each garden had a pond as well.  I guess you could even explain baptism.
This is my boy's garden.  They want to add a waterfall powered by a watch.  They have since added animals and every hour something has changed in the garden.
I love that their creativity is not being stifled.  They remind me of their Maker who constantly changes gardens, too.  Like seasons.
Resource:  I got this idea from here, Impress Your Kids! It has amazing links to share what Jesus did for us and to make it fun for kids to learn!
Blessings to you!  You are loved!
If you came over here for the Guess that Homeschooler game on iHomeschool Network, the hint for my photo is my middle name.
Now some would get that right off.  But for those who don't….here is a poem.
oKay!

I'm married into a bunch of Kentuckians.

Kindhearted KY family.

Did you know Kentuckians and Kindhearted have the same amount of letters?

In fact, the amount of letters in Kentuckians and Kindhearted – is the letter of the _ which is also my letter next to my child photo.

oKay!