Easy Hobo Campfire Meal for the Grill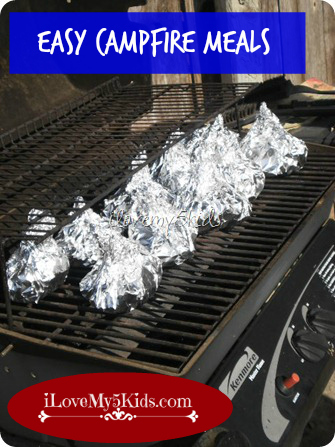 There are some nights that I just don't want to heat up my already HOT Texas Kitchen.
My kids started loving this meal a couple of summers ago, when they made it at camp.
I changed the way they made it – just a tad.
I NEVER follow the same recipe.
It truly makes me feel all chef like.
Easy Hobo aka Meal in a Foil Packet
Ingredients:
Potatoes
Carrots
Onion
Ground Beef
Seasoning
 I use Teriyaki Sauce and Garlic Salt
Next time,
I might add celery, cilantro, chicken, and salsa.
Next I cut off rectangles of foil.  Smaller for the younger kids, larger for the big ones.
No worries, if they are not the same.  No one notices.
1st:  Lay the onions.  Some people put butter but since I'm using ground beef, I figure it doesn't need anymore oils.
Next, lay the beef on the onions.  My kids don't like the taste of onions – so I figure the beef will mask the taste.
(I was right – no one complained about the onions.)
Then add the chopped potatoes.
I didn't peel them.  Hopefully, the kids got more of the vitamins.
(Wishful thinking – not a scientific fact that was proven in our home.)
Then add the carrots.  We sliced some.  We chopped some.  They all tasted the same.
Then our secret ingredient – because every good chef as her secrets.
Teriyaki sauce.
I just added a half a capful per packet.  I wish I had added more.  YUM!
Plus,  a little Garlic Salt.
Because I like salt and garlic.
Then wrap up like a Hobo sack or a Hershey Kiss.
Find a sweet and willing helper.  You won't have to do anything but chop veggies.
Looks like chocolate for dinner!
[easy-share buttons="no" counters=0 native="selected" show_fblike="yes"]
Seriously, yummy on the grill.
[wpsr_pinterest]
We hadn't used this grill in years, since I had won the Smoker for Stuffed Jalapenos.  I'm surprised it still worked.
But, it did!  And YUMMY!  In like 25 – 30 minutes.
The finished product!
All the kids loved it!  Plus, it kept my Hot kitchen cool!  Literally.
Have you done this before? 
Cracker Barrel sells them on their menu for around $7-8 a meal, but you can make them for quarters.
I love a frugal tasty easy meal!
Blessings to you!  You are loved!