Guess what this post is about?  Making Valentine's Day Memories and a Giveaway!
Let me tell you about two of my favorite Valentine's Day Memories growing up.
My Mom made helped me make the BEST Valentine's Day card box ever for a school contest.   I wish I had a picture. Her idea was a computer.  It had two boxes wrapped in white paper – one for the screen and one for the keyboard.  For the keyboard it had sweetheart candy's for the keys.  I won 1st place in the Most Creative Category.  Isn't it funny – I still love computers?
My Dad would always (I'm sure he missed a few) give me the sweetest Valentine's Day cards and cute gifts.  They would always be the Hallmark brand.  That was the point.  Anything else wouldn't do…he would say.
Do you have a special memory?
Being a Tommy Mommy has it's perks! One of them is being honored to giveaway some cool books!  One of iLoveMy5Kids' Readers will win an entire Valentine's Library for someone special child in their life.  Don't worry – everyone can be a child at heart.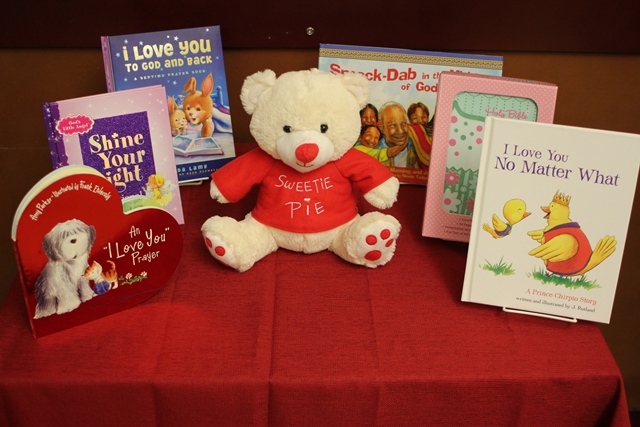 These are the books included:
So do you want to win?
Just leave a comment telling me your BEST Valentine Memory or one you made with your kids!
It doesn't even have to be from a spouse.  My two favorite memories are from my parents.
[easy-share buttons="no" counters=0 native="selected" show_fblike="yes"]
I'm so thankful for anyone who reads this blog and is encouraged to make memories with their children!  Seriously, it just knocks my socks off!   And while I'm at it…I LOVE COMMENTS!  They are like chocolate without the calories!
So – leave one pretty please…I'm on a diet – I NEED chocolate!
P.S.
Even if someone doesn't want to enter (or just simply isn't the winner), everyone still can benefit from the 30% off discount code. By visiting www.thomasnelson.com/love and using promo code LOVE, (don't you just LOVE the code) you can receive 30% off your purchase or pre-order of these wonderful kids titles (code expires 2/15/13).
Winners must live in the United States. Sorry, for you overseas peeps.  Make sure I have an email to reach you or you could be forfeiting your awesome prize.  Winner will be chosen on 2/11/13 by The Winner Is App.
Blessings to you!  You are loved!