Easy Homemade Pita Bread Recipe
I think this happens to be the easiest way to make your husband or lover fall in love with you all over again.  My hubby walked in the house and goodness gracious…Cupid didn't have enough arrows.  It reminded me of the times I made Homemade Bread without a bread machine.
This probably should be called "Lover Bread."  Yep, I went there.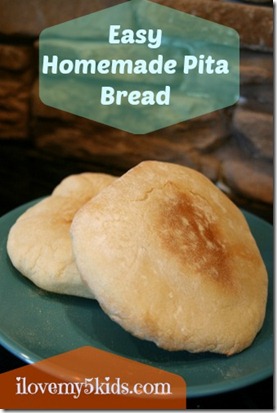 [wpsr_pinterest]
[recipe id=""]
Homemade Pita Bread
Recipe adapted from: Lady Behind the Curtain
2 1/4 teaspoon active dry yeast
1-1/2 cups warm water (105 degrees to 115 degrees)
1 tablespoon honey
3-1/2 to 4 cups all-purpose flour
1 teaspoon salt
2 tablespoons olive oil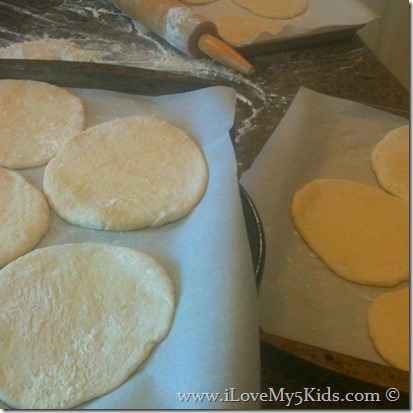 [easy-share buttons="no" counters=0 native="selected" show_fblike="yes"]
Directions:
Mix the yeast, water, and honey in a cup.  Let stand for 10 minutes.  It should be foamy.
In a mixer, add 3 1/2 cups of flour, salt, and olive oil.  Mix with a spoon just a little.  Then add the yeast mixture.  Using a dough hook, mix until a ball is formed.
In a bowl that has been rubbed with olive oil, place the ball of dough in it.  Cover with a thin towel, and set in a warm place.  I usually preheat my oven for a couple of minutes then turn it off.  Then I place the bowl inside the oven.  Leave it for 90 minutes for it to rise.
This is the fun part!  Knead dough for 10 minutes on a floured surface, if your dough is sticking to your hands add a little more flour.  Divide dough into 10 pieces.  I use a pizza cutter to cut the dough.
Roll piece into a ball.
Cover loosely; let stand 10 minutes.  Preheat oven to 500 degrees while waiting.
After 10 minutes, roll out balls into the size of pita bread you want.  Usually 6 inches is good.
Bake on cooking stone or ungreased baking sheet.
Bake for 4 minutes then flip and bake for 2 minutes more.  The bread will puff up.
Transfer to a plate or wire rack if you have one to cool.  They will be extremely HOT!
NOTE:  Do not use parchment paper for a liner.  I did the first time, and it almost caught on fire in the 500 degree oven.
[/recipe]
Please do not hold me accountable for any love troubles after making this bread.  Your welcome in advance!
[wpsr_pinterest]
Blessings to you!  You are loved!
[wpsr_stumbleupon]
Partying with: