We have been in the middle of remodeling our home, aka The Lighthouse (#DIYplus5) for a while now.  Almost 3 years, but who is counting?  Well, me.  But, hey…we won't dwell on those almost 1-0-9-6 days.
Let us focus on the Master Bedroom, one of my favorite rooms.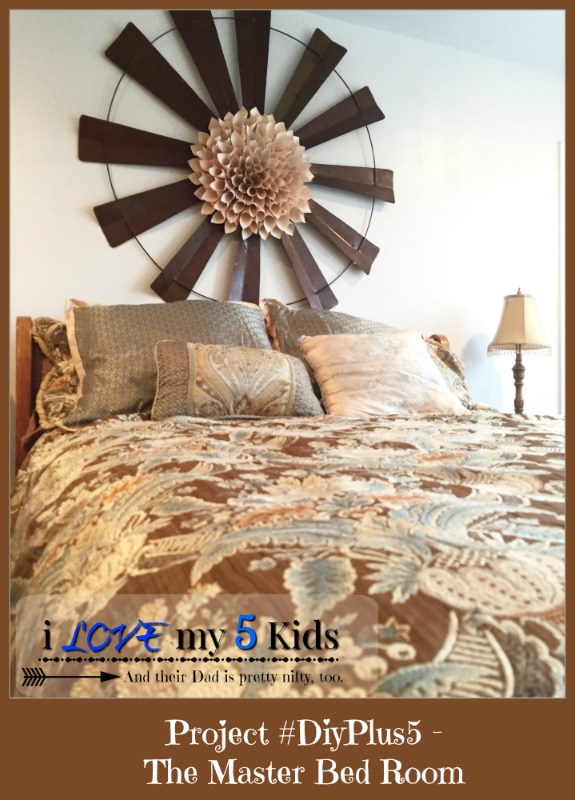 It has been quite the journey from putting up walls, lifting the ceiling, adding sheetrock, tearing out windows, putting in windows, sanding, painting, flooring, adding a closet, adding a cute "love nest" and eventually a master bath.  Not to mention, we do it ALL ourselves, with the kids.  No hired help….yet.  (Somedays I wish we could own that Amex Black Card. But, sadly we do not.)
Seriously, a true Do It Yourself crazy and unforgettable journey.  Our kids will certainly have the "know-how" when they are out on their own however none of them want to go in that profession.
I love to think about decor.
It is all around me, whether I am shopping, cooking, walking, traveling and even taking a shower.  I think about colors, textures, lighting, and things I like and dislike.  Even when reading the Bible I can see how the Lord used decor all throughout scripture.  I would love to see the palace that Esther lived in or the Tabernacle and all the colors that went into it.
I want "Our Master Room" to signify things that are special to our life…
Special memories, future hopes and dreams, symbolism, a sweet refuge and a quiet place to just get a timeout from regular chores or the craziness of life.
Decorating with Memories
One of my favorite memories, when I was a little girl, was driving across Texas and seeing windmills and sunsets.  Well, not just when I was little, I still love seeing them.  The round tall windmills represent hard work in a rugged landscape.  A spring underground just waiting to be drawn by the windmill so that it can be the catalyst that brings a drink to the thirsty.
Back in January at a sluggish Canton weekend, I came across this booth that was selling windmills.  Since I had just had my birthday, my birthday envelope was full of spending money.  Yay!  I finally splurged and bought my first decoration for our bedroom wall over our bed.  A windmill.  It was more money than I normally spend but OHHHH I love it!  But, the texture of the windmill seemed too rough for a master bedroom so my daughter and I whipped up this Dahlia Wreath made of book pages.  Then we attached it to the middle of the windmill.
It was a simple craft made with old book pages, hot glue and time.  There are tons of How To videos on YouTube.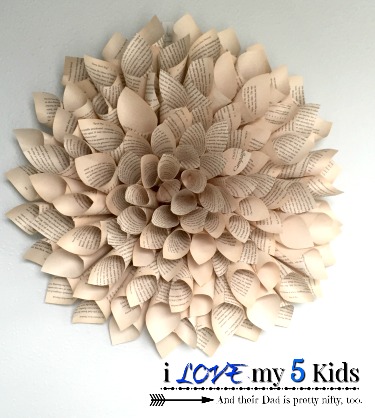 The Love Nest Addition
As for the little bonus room aka the Love Nest, it is the only official finished room in the house.
It will eventually be our Nursery.  I love that it is finished.  The flooring is a dark gray color that goes perfectly with the light blue walls that reflect the lake.
I finally broke down and bought something for the nursery when we visited the border town McAllen during Spring Break.  They are the prettiest little birds made out of wood.
I am still pursuing other things that I would like to put in the room.
Being in Texas, Cowgirl or Cowboy Boots always seem appropriate when going with a theme that is brown, blue and having windmills over your bed.
Wouldn't those be cute vases for some beautiful wildflowers?
I am also thinking something like…the colors of this flower arrangement.  It reminds me of Autumn, my favorite season plus would look gorgeous with my bedding.  I absolutely love my bedding – Thanks, MOM!
It has been hard to find those colors for a baby's nursery!
But, I will keep pursuing,  I would like the nursery to blend with our bedroom since it is part of the room.
The Pinterest Stage of Decorating
I am still in the thinking and planning stage  AKA Pinterest Stage as I affectionally started calling it.  I finally started a new board, called "Baby Baby – I'm taken with the notion, To love you with the sweetest of devotion."  I mentioned it to my kids, they had no idea who Amy Grant is…I almost failed as a mother.  Amy Grant was my hero growing up.  How did I almost fail by not sharing her music with my children?! But, thankfully it was an error caught in time.
So I will hopefully be updating more often.  I have missed blogging about our #DIYplus5 projects.  There have been a few of them that I have missed.  Like my new laundry sorter that my husband designed.
I pray you have a wonderful weekend!
Blessings to you!  You are loved!