My kids and I had a life experience last week.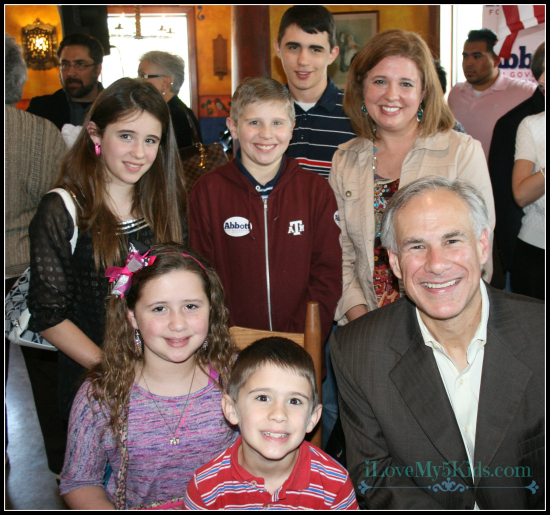 [easy-share buttons="no" counters=0 native="selected" show_fblike="yes"]
We were blessed by being asked to go meet the newly elected:
Republican candidate for Texas Governor, Attorney General Gregg Abbott.
When I received the phone call invitation, at first I said,
"No, thanks."
My excuse: My kids have Math and tons of bookwork to do.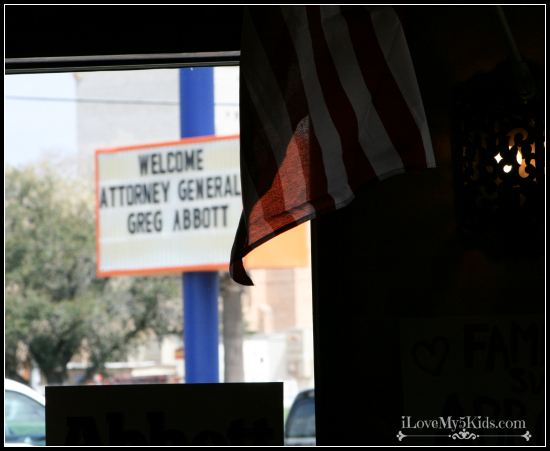 However, I started thinking back to 1999.  The then Governor George W. Bush came to my local library and I had a chance to go meet him in a quaint setting, hearing rumors he was thinking about the White House.  Since I had a baby I decided not to go.  He became President a couple years later and it made me so sad that I had missed an opportunity to see him and maybe get a photo with my eldest.  (If I had a chance again, I would jump at the opportunity, not to mention, we love learning seeing and hearing history makers!)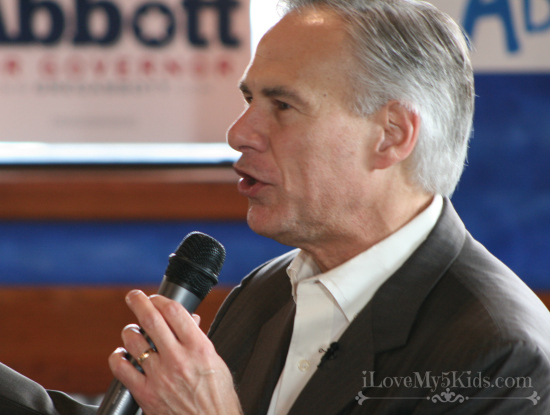 So Math and bookwork can wait a day and I called the sweet intern back and said we would be able to make it, reserve us 7 tickets, in case my hubby could make it (unfortunately he did not.)  Besides, what a super history lesson in the making.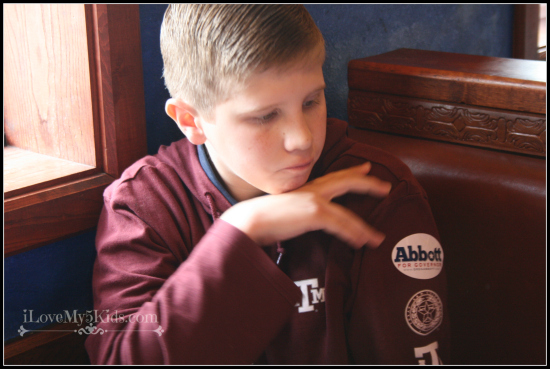 Since we use a curriculum that starts with Ancient World History and we have yet to study Texas law, we had to do crash course.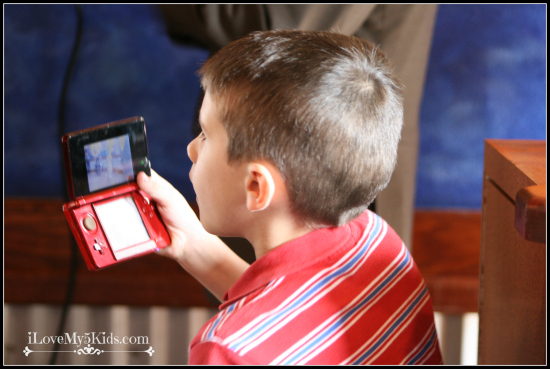 (He loved using his Gameboy 3DS to take videos of the speech.)
I don't like to go on field trips unless we have some background and the kids understand what is going on.  This way they can comprehend the importance of meeting certain people and what their roles stand for.
What is the job of a Texas Governor?
Plus other Texas fun facts and coloring sheets.
How can we encourage him?

We can pray that he would have an understanding or discerning heart like King Solomon.1st Kings 3:9
[button align="" color="" size="" link=""]Therefore give to Your servant an understanding heart to judge Your people, that I may discern between good and evil. For who is able to judge this great people of Yours?[/button]
What questions do you want to ask the potential future Governor of Texas?
Oh my, my kids came up with some doozies.  I had to make sure they were at least "political" enough before we asked these in public. They did great by the way.  I was one proud Mommy because we all know – kids speak their minds most of the time without saving face.

1.  Do you have pets? – Yes, he has a dog named Oreo.

2.  Have you ever been to the Smithsonian Basement?

(I bet no reporter has asked that one yet!  – Yes, he has.  And yes that would be a super cool field trip!

3.  Are you a native Texan?  Yep!
4.  Do you like sports?  Yes, in fact he was actually running when a tree fell on him and now he is in a wheelchair.

(My Bob Costas Jr. and him talked a lot about Texas A&M football.)

5.  My eldest of course, asked about him and the current President and if he agreed with him on anything?  My son had researched where he had sued him 25 times or so.  He said they did agree on one topic and they are actually working together on Medicaid.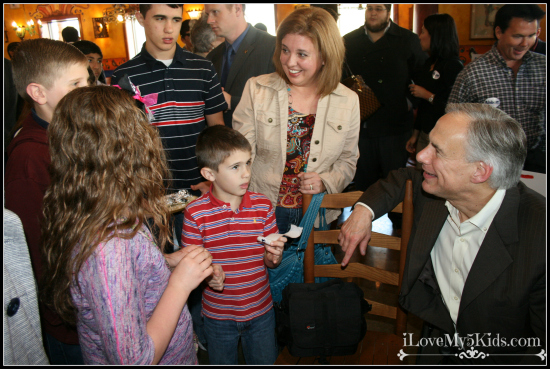 Overall, my kids were able to see a political figure and gain perspective from a politician on a personal level.  I would say this field trip beat out their Math assignment.   I love living school out loud.
Blessings to you!  You are loved!