After we
tiled our backsplash
– we wanted to do something beautiful and thrilling behind the stove-top!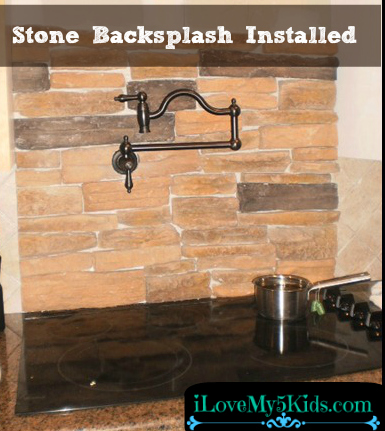 [wpsr_pinterest]
We chose STONE!
Caution:  This might cause jealously. 
Don't worry, you can do this too!
This was the first time we had done stone.  It is faux more like colored concrete shaped stone.
My hubs actually laid it out on a piece of plywood and brought it in the house.
   He then applied thin-set just like you would do with tile.  He applied the stone one at a time in order.  It was very precise work…for these men.
He
conned
asked a friend to come and help.  I should mention this is the same friend who has helped us
tile our kitchen/living room
…brought chocolate when I had the flu and fixed our skype so we could confer with our long-distance family.
His wife is awesome too!  She can bake like nobody's business and is an awesome homeschool Mama!  Yeah, we totally have the better end of the deal in this friendship.
Okay, back to the stone…
Ta Daaaa!!!!
Don't look at the place above the stone…
I caught you looking…
My hubs is going to make an awesome customized oven hood.
Any questions???
Like…how are we going to keep it from staining?
Did we seal it?
What about the white places in between the stone?
If it stains, we will call it character.  Although, I tested it and it hasn't yet.
We have not sealed it…yet.
We will probably grout it…when we grout the tile.
Any other questions?
Blessings to you!  You are loved!!!
[easy-share buttons="no" counters=0 native="selected" show_fblike="yes"]