Summer is right around the corner!  I cannot wait!  We are planning so many things this year!
One of my favorite ideas is Cousins' Camp.  My nieces and nephews are coming for a week in July.  My kids and I have been planning this fun event for months.  Be sure to sign up for my emails so you won't miss those details.
On account of moving to this area last summer, we have felt like tourists.  Since we are soooo new here and our home remodel is still in major uproar – we are making it a STAYCATION.  In other words, we are staying put and exploring the rich history and fun sites in the Tyler and East Texas area.  (Don't tell the kids but we are still going to be learning this summer – we homeschool, meaning school really never stops.)
A Staycation is like a vacation but you "stay" in your area.
Since doing our Staycation ideas for the RGV – Rio Grande Valley the last past two years was such a hit, I thought I could add one for our new area.
ALSO – at the very end of this post is STAYCATION ideas from other bloggers across the entire nation!  Feel free to share with all your friends!
So here it goes…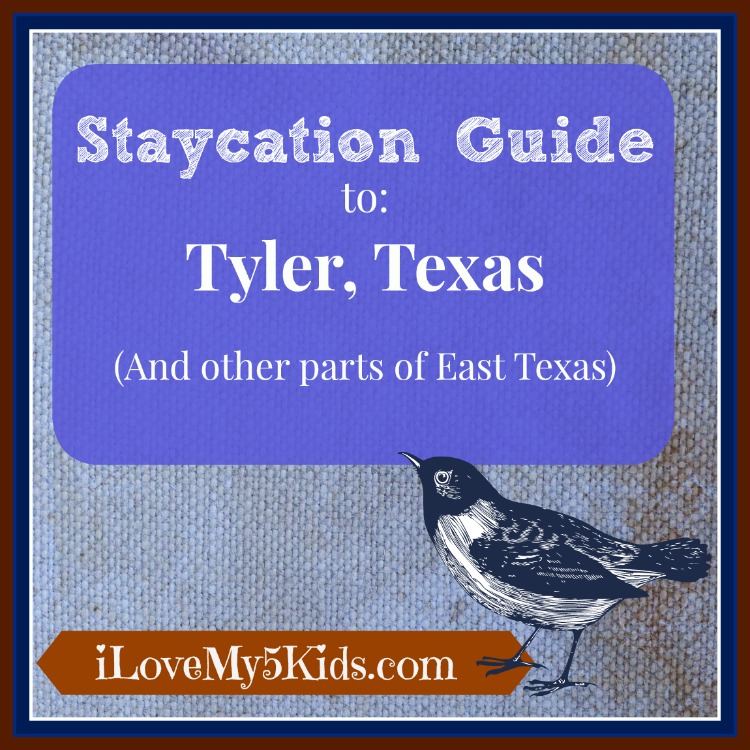 Staycation Ideas for:
Tyler and surrounding East Texas areas
Feel free to leave a comment if you know of more things to do in this area – I'd love to hear about them!
If you have ever bought a rose bush, it has a VERY high chance that it came from Tyler, Texas.  Tyler is known for their beautiful roses.  I took my Grandma for a picnic lunch there and we had a blast!  It would be a perfect place for kids to practice their macro photography or have a rose scavenger hunt.  Be aware it is the Nation's Largest Municipal Rose Garden, 14 acres of gorgeous roses.
Tyler Rose Garden PDF map.
Admission:  FREE
420 Rose Park Drive Tyler, Texas 75702 (903) 531-1212
Tyler Historic Aviation Memorial Museum (HAMM)
Tyler Pounds Regional Airport,
150 Airport Dr, Tyler, TX 75704
(903) 526-1945
2203 Martin Luther King Blvd. Tyler, TX 75702
(903) 593-0121
[email protected]

My girls loved this place located in the center of downtown Tyler! They look like they have some fun summer programs.
308 N. Broadway Ave., Tyler TX 75702
903-533-8011
Located in the heart of Tyler, this delightful museum is neat to take little kids.  I have taken my little nephews and niece and they loved looking for foxes, big bears, and certain fish inside.  Afterwards we enjoyed a $.25 Popsicle and had a blast at the park that includes a fire truck and caboose.
Admission:  FREE!
Old Jacksonville Hwy, 1 Mile South of WSW Loop 323 (Adjacent to Brookshire Grocery Co Headquarters),
Tyler, Texas 75701
Putt Putt Golf, Go Karts, Bumper Boats, and much more!  Looks fun for a date night (or family night if you want to bring the kids!)
14722 State Hwy 155 South • Tyler, TX 75703
(903) 561-2670

A 140 acre preserve dedicated to over 35 rescued big cats.
17552 FM 14 • Tyler, TX 75706
Phone: 903-858-1008
Walking trails, swimming, fishing, camping, 11 mile mountain bike trail and much more at this beautiful state park!
Don't forget to borrow a Junior Ranger Explorer Pack for the kids in your group from the office.  We have had these before and they are amazing for kids to learn about nature, plus they are free!
789 Park Road 16
Tyler, TX 75706-9141
Things to do in East Texas!
♥ Texas Freshwater Fisheries Center – My husband and I stopped here one day and just got a brochure.  It had a beautiful entrance.  We can't wait to take the kids!
5550 F.M. 2495, Athens, Texas 75752
(903) 676-BASS (2277)

♥American Freedom Museum – This is on our list to do for sure!  Teachers and Military be sure to take a photo ID and you can get in free!  I have heard that this museum is great for the entire family!
The museum is located on the campus of Brookhill School.
1051 N Houston St, Bullard, TX 75757
♥ Dewberry Plantation – we pass this daily and I can't wait to stop in.
It is listed on the National Register of Historic Places and the Myrtle-Vale House is the oldest two-story structure in Smith County.  I love history!
14007 FM 346 West, Bullard, TX 75757
(903) 825-9000
♥First Monday Trade Days – personally one of my favorite places to shop.  Tons of vendors especially if you love something unique.  Think Fixer Upper, for those who love that HGTV show, which we do! Only open the Thursday, Friday, Saturday and Sunday BEFORE that FIRST Monday.
800 First Monday Lane
Canton, TX 75103
P (903) 567-6556
18814 Interstate 20, Canton, TX 75103
♥
Grand Saline Salt Palace
– Grand Saline is known as the capital of Salt in Texas.  This museum is only open on Saturdays so be sure to call before you go!
100 W Garland St Grand Saline, TX 75140
(903) 962-5631
903-962-5630 – Call for directions!
♥ Known as the "Tomato Capital of the World!" All over the city you will find tomatoes that are not edible but make a fun photo opp!
♥ Love's Lookout – A great place to plan a picnic with an AMAZING view of over 35 miles of Texas scenery!  We love stopping here.  It is a great place to stop and smell the pine trees!  A friend of mine actually proposed to his wife here over 30 years ago.  Of course if you do that – please comment, I love a great love story!
Not to mention the restrooms are always super clean!  (<-Important info for Moms like me!)
43822 Hwy. 69 North
Jacksonville, Texas 75766
♥ Cherokee's Trace Drive Thru Safari
If you are wanting zebras – well this might suit you fine!
1200 CR 4405
Jacksonville, TX 75766
(903) 683-3322
2371 County Road 1613 Jacksonville, Texas 75766

♥ World's Richest Acre – My husband and I went here on a date night during Christmas.  It was neat to see all the oil wells donning Christmas lights.  After traveling to the Permian Texas – we like learning about the oil industry and this did not disappoint.
I have a confession.  I was in drill team back in the day.  In fact, I was an officer.  I would love to go to this museum by myself but who knows I might take the kids, too.
1100 Broadway, Kilgore, TX 75662-3299
Phone: 903-983-8265 
♥ East Texas Oil Museum


Hwy. 259 at Ross St.
Kilgore, Texas 75662
On the Kilgore College campus
(903) 983-8295
♥Mineola Nature Preserve – From camping, horseback riding, biking, canoeing, and hiking this preserve has it all for those who love nature!

1860 County Road 2724 Mineola, Texas 75773
(903) 569-6983
Please be advised some of the information is likely to change.  I will try to keep it updated but please contact them before you head out on a road trip!  I will also add more as I come across them!  Don't forget to let me know of other ideas in the Piney Woods and East Texas!
Other STAYCATION ideas from across the nation!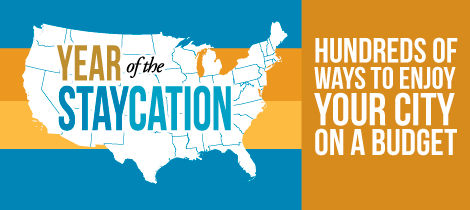 A – D
Phoenix, Arizona — Saving For Someday
Fresno, California — Living A Frugal Life
Orange County, California — More With Less Today
San Diego, California — Southern Cali Saver
Denver, Colorado — Bargain Blessings
Washington, District of Columbia — Kidventurous
F – I
Disney World, Florida — The Happy Housewife
Jacksonville, Florida — Saving The Family Money
Orlando, Florida — Coupon Mamacita
St Augustine, Florida — Simply St. Augustine
Tallahasse, Florida — SwagGrabber
Tampa Bay, Florida — LaToyaEdwards.net
Atlanta, Georgia — Pretty Frugal Diva
Dahlonega, Georgia — Kathys Cluttered Mind
Savannah, Georgia — This Mommy Saves Money
Aurora/Chicago, Illinois — A Savings WOW!
Chicago, Illinois — Entertaining Chicago
Indianapolis, Indiana — Chaos Is Bliss
K – P
Lexington, Kentucky — Homeschool Village
Louisville, Kentucky — The Kennedy Adventures
Northern Kentucky, Kentucky — Simply Sherryl
Carroll County, Maryland — Looking at life CreativLEI
Boston, Massachusetts — Maven of Savin
Battle Creek, Michigan — Pichea Place
Grand Rapids, Michigan — Give Me Neither
Metro Detroit, Michigan — Saving Dollars and Sense
Kansas City Area, Missouri/Kansas — Redefined Mom
Omaha, Nebraska — Family Fun in Omaha
Central, New Jersey — Our Good Life
Cincinnati, Ohio — Adventure Mom
Cleveland, Ohio — Kosher on a Budget
Columbus, Ohio — Cleverly Simple
Dayton, Ohio — Savings Lifestyle
Mansfield & Richland County, Ohio — The Traveling Praters
Miami County, Ohio — Something 2 Offer
Northeast, Ohio — Sisters Shopping on a Shoestring
Portland, Oregon — Frugal Living NW
Harrisburg/Central, PA — Family Balance Sheet
Erie, Pennsylvania — Growing Kids Ministry
Philadelphia, Pennsylvania — Moms Need To Know
Pittsburgh, Pennsylvania — The Coupon High
R – W
Arlington, Texas — Grocery Shop For FREE
Fort Worth, Texas — Coupons and Freebies Mom
Houston, Texas — Melissa's Bargains
Katy, Texas — Moms Confession
Rio Grande Valley (McAllen and surrounding areas) – iLoveMy5Kids
San Antonio, Texas — How to Homeschool My Child
Tyler, Texas — iLoveMy5Kids
Charlottesville, Virgina — How to Have it All
Norfolk, Virgina — The Talking Suitcase
Richmond, Virgina — Vacation Maybe
Seattle, Washington — Thrifty NW Mom
Tacoma/South Puget Sound, Washington — Queen Bee Coupons
Oshkosh, Wisconsin — A Little Bit of This and That