Staycation Ideas for McAllen Texas and the Rio Grande Valley
including Brownsville, South Padre Island and other local areas
Updated for 2014!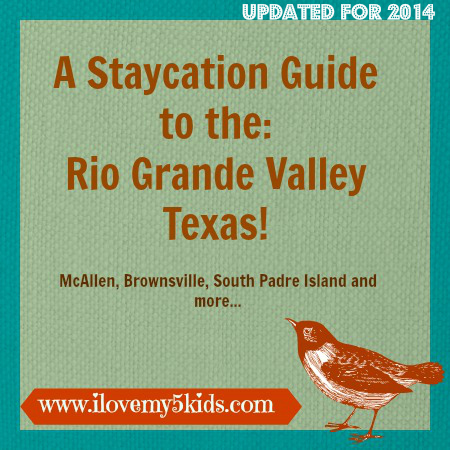 [easy-share buttons="no" counters=0 native="selected" show_fblike="yes"]
Our family loves to travel TEXAS!
We have traveled all over the Texas/Mexico border from Brownsville to El Paso and even up to Paris, with all the little cities in between.
We have seen some pretty areas and plus we love to travel the off beat paths.  The Rio Grande Valley is an amazing place for families and bustling with things to do.
 A Staycation is like a vacation but you "stay" in your area.
If you don't live in the Rio Grande Valley, come back tomorrow for a list of over 75 areas that list Staycation ideas.
We find so many jewels in our travels, especially in Texas.  These are just some of the places we have visited (and want to visit) in the Rio Grande Valley.
Places to visit and things to do in the RGV
Nature lovers:
Bird Watching  – The Rio Grande Valley is known for being the top birding place in the country.

The Rio Grande Valley area is home to many tropical bird species found nowhere else in the United States. It is a major bird migration corridor; the convergence of two major flyways (the Central and Mississippi.) Photo Source:  World Birding Center



World Birding Center has nine locations.  A great place to learn about the 500 species of birds in this area.
 A free checklist for you and your family is a fun way to draw awareness.  Just see how many you have in your backyard.
Butterflies – The Rio Grande Valley has over 200 species of different butterflies.National Butterfly Museum  – A fun place to see and learn about butterflies.
This year they are having a Critter camp aimed at children for 7 to 12 that last 4 weeks.
A free how-to grow your own Butterfly Garden Guide.
A free checklist for Butterflies.
Sea Turtles, Inc. – Great little place to visit and learn about turtles in South Padre Island.  Most of the turtles are being rehabilitated.
They are also hosting a Summer Camp for kids.  But, hurry – it fills up fast!
Plus, check out their Live CAMs that lets you watch the turtles all day long.
Grow-n-Growers – A place to know what to plant and how to make dishes native to this area.
South Padre – Every Sunday. 11 AM – 1 PM, The Shores
Pharrmers Market – located in Pharr and it is open every Thursday except major holidays.

RGV Cupcakes 

(Winners of the Food Channel's Cupcake Wars)  This to me is worth a fun trip.  Mention my blog and it will get you probably nothing but tell them I would love an iLoveMy5Kids cupcake.  They have not a clue who I am.  But, my daughter and I are huge fans of the Cupcake Wars and are so proud that these locals won a title.
Rancho El Charco – Great for family outings.  They have fishing, petting zoo, swimming, wagon ride tours, and much more.
Museums in RGV
Reading Programs
Dog Parks
McAllen Dog Park – Tamarack Ave, McAllen, TX 78501
Churches
We are always looking for Vacation Bible Schools for the summer.  Here are few places that I know that they would love to have you and your family.
For Moms:
I do not want to leave out MOPs. McAllen and the area is a place that many people have job transfers. MOPS (Mothers of Preschoolers) is a great way to meet other Moms and kids to make friends.  When we moved to this area years ago, it was a true life saver.
I am pleased to announce a new blog just for this area called "Rio Grande Valley Moms Blog."  It was started by a sweet friend of mine that I met in Mops.  She is constantly updating it with ideas for Moms in this area.
Segway Tours
Have you tried a ride on a Segway yet?  Here are a few tours around the RGV on a segway.
Art
Just for fun!
Water Fun
El Sal Del Rey (A Salt Lake)
McAllen Splash Park – FREE
Located at 29th and Zinnia
in North McAllen
McAllen Parks and Recreation
including swimming and other fun classes
Town Lake at Fireman's Park
Great for canoeing or fishing.
Schlitterbahn Water Resort and HOTEL
South Padre Island Visitor Guide and Beaches
The Rio Grande Valley is full of exciting things to do. I cannot be responsible for the websites that have been listed here, at time of publishing all websites were very helpful in providing information for those visiting.
If you are still wondering about the Rio Grande Valley, this post my be worth the read:
20 Things You might not know about the Rio Grande Valley.
One of my favorites was:  "We eat Raspas not snow cones."  Get yourself a Raspa!  It is a must if you intend on visiting.
And a Botana (I've never seen them served anywhere except the Rio Grande Valley.  They are must try!  Plus, they feed a multitude.)  You are welcome beforehand.  🙂
Please share with friends who might be visiting or living in the RGV!
Blessings to you!  You are loved!