World's Largest Killer Bee
Here is one of our latest stops…
The World's Largest Killer Bee – Hidalgo – Texas
Another name for the Killer Bee, is the Africanized Bee.
Apparently, they are easily agitated and will attack with little warning.
Many people and animals have been killed and seriously injured from these swarms.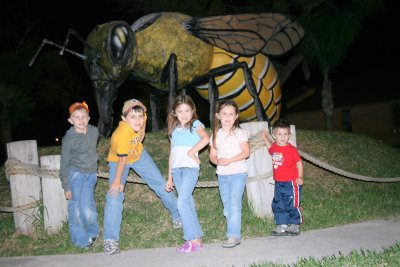 A policeman was watching us take this picture, he was probably thinking – "Tourists."
[wpsr_pinterest]
What a stinger!
So, if you know of any other rather
large "things
" – let us know.  We like to travel!
Blessings to you!  You are loved!
We now know swarms form when they form a new nest.  They will split from another hive and try to form a new one.  They will look for an abandoned hive or maybe an attic.  This is why it is important to spray foam in any holes that could be in your home.
[easy-share buttons="no" counters=0 native="selected" show_fblike="yes"]