There is a new sheriff in town!
Well, not exactly a sheriff but a new way to teach the Bible to the old and young alike!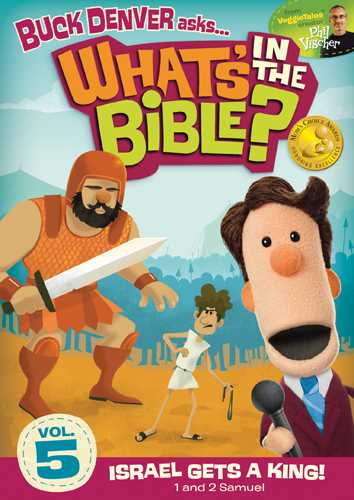 I was raised in Church.  I know how to speak "Church-ese."  I married a youth pastor.  I know that I can sing a song that the Angels can't sing – I've been redeemed!
But, even growing up in Sunday school kind of life – I still had so many questions about the Bible. 
Who wrote the Bible?
What the difference is between the Catholic and Protestant Bible?
How long a "Day" is in the seven days of creation?
Why God – Why are there so many laws???  Do I still have to follow ALL of them?  Can I pick and choose?
Well, I was quite amazed at this new sheriff  What's in the Bible Series.
 
When I first saw this, I thought "Really! This is more for adults than kids!" It explains the Bible in a way – that is SO Easy to understand and answered the questions that I needed to hear.  (Yes, I know it is designed for kids.  I'm young at heart!)
My kids love this whole series, thus far!  They constantly are singing the silly songs thus my 4 year old is learning his books of the Bible.
Here is a clip of What's in the Bible that explains the Trinity.
So, GUESS WHAT?!?
I get to give away one:  (Loud Squeal!)
Oh, this is going to be a simple giveaway.  You can only enter 3 times.  (Like the Trinity being 3!)
Number 1 and MANDATORY ENTRY – Leave a comment on this post of a Bible question you might have and want answered.  If you don't want to leave a question, just tell me why you would want the DVD?
2nd Entry
– Be
ilovemy5kids
Google Friend Follower and leave me a comment saying you are!  (If you already are a Google Friend Follower, just leave a comment and tell me!)
3rd Entry
– Become a fan on
ilovemy5kids' Facebook Page
and come back and leave a comment here saying you did!  (Again, if you already are a precious facebook fan, than just tell me.)
(Winner will be chosen on May 22nd.  Comments will be closed after that!)
Of course you could always
buy the entire series…
Blessings to you!  You are loved!
For more information, please go to www.whatsinthebible.com or www.Tyndale.com.
The author and creator of What's In the Bible is Phil Vischer.  You might know him better as Bob the Tomato or the author of Veggie Tales.  Yep, that is him!  My hubby and I really appreciate his testimony of why he started What's in the Bible.  His humility and desire to spread God's Word spoke volumes to our family.
Note:  I was sent complimentary copy for review purposes only.  This review has not been monetarily compensated.  The review was my honest opinion and views and not influenced by the sponsor in any way.