Trusting in the Lord is such an adventure sometimes, well every time.
Let me backtrack just a moment…
Because of the adoption confidential details, we might change some of the names or leave out important details. 
First news!
CHOSEN
We, David and I have been chosen by a birth mother! In other words, we are expecting! Like very soon! A little girl, a princess, will soon be in our arms.  I can't even type that without busting into tears. God has been so good to us and this sweet birth mom. Oh, I wish I could share every little detail, but in time – it will be revealed. The Lord will receive ALL the Glory!
The Minion that CHANGED our life
When we were called to meet the birth mother, she and the social worker had a code.  After talking to David and myself, if she still liked us then she would hand her stuffed minion from the Despicable Me movie to the social worker to say "THIS IS THE FAMILY."  (I never thought I would cry so hard over a minion.)
I love that the Lord uses any object, person, or situation to magnify Himself!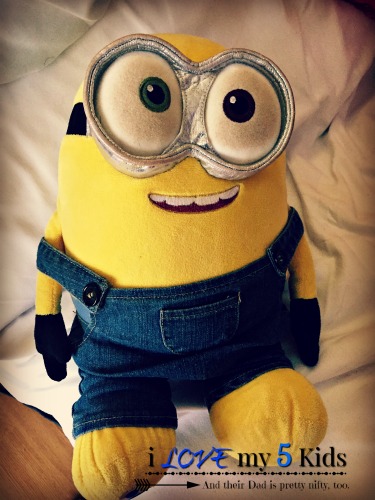 I will never look at a yellow Minion again without thinking – "WE WERE CHOSEN!"
Plus, I didn't realize it but that movie was all about adoption.  How cool is that?!
PRAYER
The sweet birth mom is having some complications.  But, again, the Lord is so good!  We are using this time to pray, laugh and make some memories alongside her.  David and I have never had a pregnancy that has not been high risk so this is nothing new to us.  We have been prepared for such a time as this!
Please pray for both the sweet birth mom and the sweet baby.  The birth mom needs to hang on just a few more weeks.  The baby needs to grow fast.  BUT, we know the Lord has both of them in HIS mighty STRONG and ever faithful HANDS!
AND if you love praying…
Last night, I couldn't sleep in the hospital chair so I went for a short walk.  I love when the Lord directs our steps!  I noticed a lady walking. I am anything but shy so I asked her if she had a loved one in the hospital.  She has a son in ICU who is not doing so well.  I knew the Lord had me there for this lady to pray for her.   He has had a rough life with medical conditions but again the Lord is so faithful.  I have a feeling that this lady and I will be walking the hospital halls again and praying for the patients that are there.
Ok, so I will try to update as much as I can.
Thank you for loving and praying for us!
Blessings to you!  You are loved!