I just love these and they are so EASY, I just had to let you know, especially since apples are so cheap during this season. If you have an apple tree – you are blessed and can make this in a cinch.  Whenever I do make this – I always get requests for the recipe.
I'm not sure where this recipe originated but it is a staple in our home.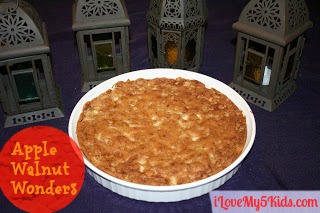 I've never followed a complete recipe, I always tweak it to fit what I have at the moment.
So, it is always a "new" recipe.
Apple Walnut Wonders
by: iLoveMy5Kids
 1/2 cup butter softened
3/4 cup sugar (less if desired)
1 egg
1 cup flour (sometimes I use half cup oatmeal 1/2 cup flour)
1/2 tsp each baking powder, baking soda, ground cinnamon
1 med. tart apple, peeled and chopped
3/4 cup chopped walnuts
Mix butter and sugar. Add the egg. Combine flour, baking powder, soda, cinnamon, gradually add to creamed mixture, beating just until combined. Stir in apple and walnuts.
Pour into greased 8″ square dish (I use a quiche round 9″dish.)
Bake 350 degrees for 30 to 40 minutes. Cool.
Very Pretty and really how easy is that?
16 servings
 Variations:
I've used pear instead of apple and pecans instead of walnuts.
I also don't peel the apple.
I've used oatmeal instead of the flour.
I love trying new recipes.
I usually try them out on my MOPs (Mothers of Preschoolers) group.
Blessings to you!!! You are loved!!!