I cut tile.
I like it.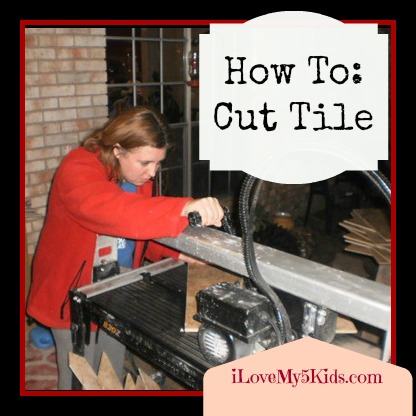 It makes me feel all grown up.
I even start to giggle a little.
The red triangle ruler is called my help-meet or my hubs says most people call it a "
speed square"
.
When you start tiling – you can have call it your "help-meet" too because no one will ever sass you again, when you use a Big Ole' Saw!  Well, they shouldn't anyway!
I draw lines from the measurements my hubby has handed me from his precise measuring.
(We are laughing a little at that last line…we have to re-cut most of them for our odd walls.)
  For example:  if he or my son has written 14″ then I would draw a line from the corner of the tile to 14″ and then cut on that line.  EASY!
This is a Wet Saw.  My hubs says it is also called a bridge saw.  He also calls it his.  Ha!
I call it a Big Time Giggle Saw.
Not really.
I just made that up.  
I call it Bad Boy.
Okay, I just made that up too.
I call it a wet saw.
But, now I might call it Bad Boy Giggling Wet Saw, in a Texan Drawl.
We are friends.  He likes me.  However, he is super loud and I can't hear for a few days after we are done working together.
I feel like ear plugs are for wimps.
WHAT???  DID YOU SAY SOMETHING???
Yeah, I played that game for a few days.  It worked well.  I didn't hear any sassing!
(Looking back, I would have bought the ear plugs.  But, I'm not a wimp.
I'm a girl with a manicure who is using a Big Bad Wet Saw.
That sounds like a bumper sticker in the making.)
I'm not sure if all Big Bad Boy Wet Saws are alike.
But, ours has a temper.
At the end of the tile – you have to go real real slow or the saw will break the end of the tile.
Fortunately , for me, my hubs had learned this trick and taught me.
Unfortunately, for him, he learned the hard way.
And that, my friends, is all there is to it!
I will say, our floor tiles are 20 x 20.
Our tiles for our kitchen backsplash are 4 x 4.
We would use our Lil' Boy Wet Saw for the little tiles and not the Big Bad Boy Giggle Saw.
Blessings to you!  You are loved!
[easy-share buttons="no" counters=0 native="selected" show_fblike="yes"]
Feel free to visit our
Home Renovation Posts
!
(There are tons of them!  We are remodeling our house all by ourselves…with lots of chocolate, caffeine, and counselors on stand-by.)
Edited to say:
Some people might wear Safety Goggles.  I didn't.
No one I know that cuts tile – really does.
But, if you cut tile – I should say wear goggles – your eyes will thank you.
Mine never thank me.  Some people might wear safety gloves.  I didn't.
No one I know that cuts tile – really does.
But, if you cut tile – I should say wear safety gloves – your fingers will thank you.
Mine never thank me.I'm embarrassing myself at:
House of Hepworths