Homeschool Books for half the price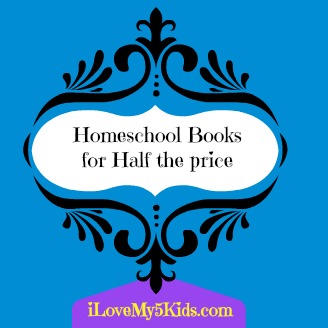 [wpsr_pinterest]
In the last weeks, I have been on a search for curriculum without paying full price.
I have come across a few resources:
For our main curriculum…My Father's World, I have found:

http://groups.yahoo.com/group/mfwcurriculumswap/
It is a yahoo group that sells only MFW resources!  I have found this coming year's books for up to half off.  (My friend, Holly, gave me this resource – which I am forever grateful.)

My friend, Angie, loves this one!  This one is not as user friendly but some of the prices are unbeatable!  A lot of times, deals flip fast so you have to know what you are looking for and timing is the key.  I have purchased many items on here as well.
I just bought from this one – last week!  This one also has a forum for anything education you could think of and more.  I really liked this one!  This is where I got my Math program, Teaching Textbooks for like 1/2 the price!

This one is the newest up and coming Homeschooling Forum.  My friends, Sue and Meghan, have started this one.  It is just starting but in a few years – it could be the Cadillac of all homeschool resources.

I get an email daily from this yahoo group.  It has a little bit of everything.

Click on the small graphic for the link!  You post 10 books you don't want anymore and when someone wants them you print out a wrapper from a regular sheet of paper and mail it.  After you post 10 books (not mail them but just post them) you get credits for free books.  If you do a search for a book – you request it and it arrives in the mail – free!
This is great for Sonlight users who need books all year round.  Just keep track of what you need.  When your done – post them and get more credits!
Local homeschool groups will have end year sales and parents sell what they didn't use or you can buy gently used books.  I have found treasures at these sales.
If you don't ask, you won't ever find that one out of print dusty book that sits on your Grandma's attic shelf or your neighbor's old computer that is still good but he just wanted to update to an apple.
I hope this helps someone today!
[wpsr_pinterest]
Feel free to leave a comment on how you save money buying books!
Updated:  I got burned buying online.  It happens.  Be sure to use Paypal and keep all your emails.  Months after I got burned so did a lot of other homeschoolers.  The person who burned me came back and apologized.  It does happen.  Be sure to be up to date on terms.
Blessings to you!  You are loved!
Partying with:
Kelly's Korner