I used to avoid going to the grocery store with all my kids.  Now that they all grew up "overnight" – it is so nice to be able to smile in the store and really mean it.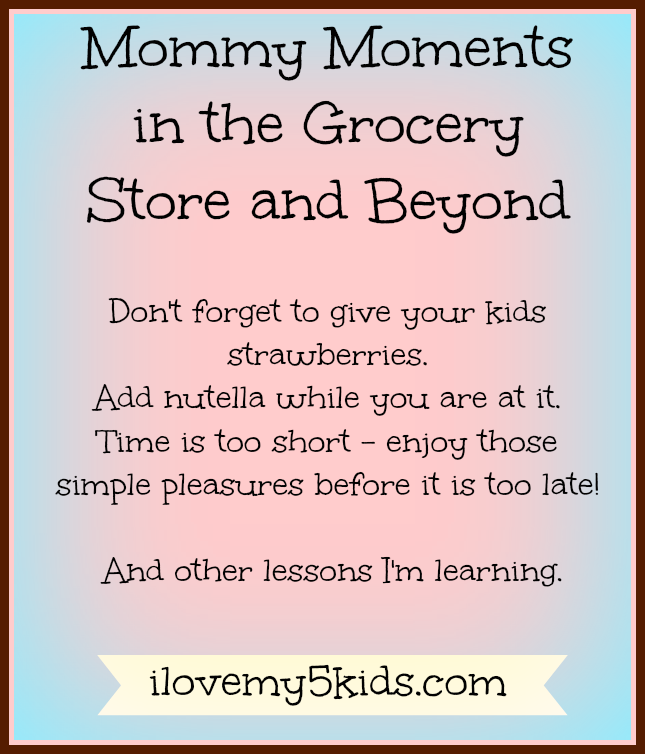 [wpsr_pinterest]
I went to the store today.  I had a few Mommy Moments.
I went down the Easter aisle and I saw a Mom my age with a toddler in her basket.  The young tot had fell asleep with his head on the steering wheel of the racing cart.  My mouth just dropped in appreciation for those sweet moments of rest.
I went down the bread aisle.  I saw an older retired couple.  They had an almost empty cart.  It was filled with toilet paper, meat and beer.  My heart kind of sank. I pray my buggy will always be full – just like my house.  Who knows maybe that couple needed a break from chaos from home?  But, the way they looked at me and my precious children – as if they longed to have company, I would say no.
I went down the veggie aisle and I saw a young mommy with her young daughter.  The daughter was wanting strawberries. She wasn't crying or laughing.  Just asking her Mom – if it was okay.  The Mom said "How can I deny her something healthy?"  I thought to myself – YES! Give it to her.  Give her all the LOVE you can muster!  She needs you!  Time is short – one day she is going to wear a wedding dress and cleave to that man you better be praying for right now.
This week has been hard on me.
Next Monday, my eldest starts "High School."
I've been in a minor depression about it.  I still see him as a little boy – who didn't want me to ever sleep or take or shower.
I ordered his school books.  I told the lady whom I ordered from – how sad I was – and she told me to "Suck It Up." Seriously – Can I just say… that is not something you should say to a client?
Okay, I know we are doing the "homeschool" thing, he will not be leaving our home – but he will be learning by himself.  I no longer will be "teaching" him.  He will be learning by himself and just asking for counsel at this point.  (Sniff Sniff)
My sweet hubby and I were talking about how much other couples pour themselves into their job, a few nights ago.  I am amazed how many of our friends don't spend a lot of time with their kids, some by choice – some not.  I'm so distraught that my eldest is not going to "need" me much longer.
My sweet hubby asked me "You know we are not normal, right?"  I looked at him – like he was Medusa.  "What do you mean?  I'm normal – not sure about you.  But I am!"
He just smiled.
At this point, I didn't smile.
I almost cried.
I love my job.  Not only "teaching" my kids but being their Mom.
I know – this is what I have poured my life into the last 14+ years, training them to go out on their own.  I know I have prayed that they would grow up and move out when they were potty training or those 3 AM feedings.  But, I want to hang on.  I like them.  They make me laugh.  They give me delight.
I know I have four more short years.
I just remember high school.  It came and went in a blink.
Anyone else with me?  I want to make a little machine that would just stop time.
Wait!
I do want grandchildren.
And to travel the world with my husband.
And not have to hide my chocolate.
Okay, I hide the chocolate from my sweet hubby.
So we are going to have strawberries all week.  Except, I forgot to put them in the cart.  We will have apples with nutella instead.  Because we can!
Blessings to you!  You are loved!