It is no secret I am in love with trees.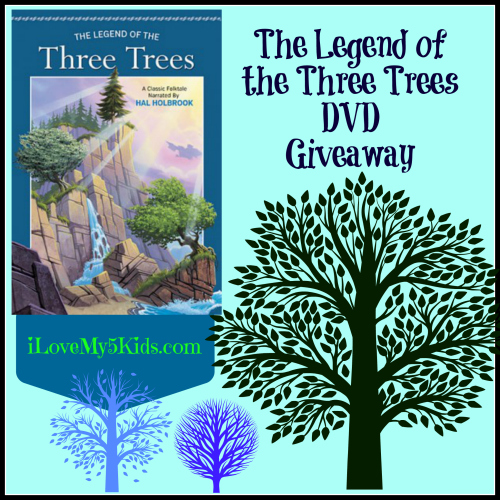 There is something majestic about how strong, how tall and how beautiful they are when they grow up and stretch out over the sky.

We lived in the City of Palms for such a long time that we forgotten all others.
But when we moved here to the Pine Curtain – the natural aroma arrests our senses every time the front door is opened.  Oh how I love trees!
The Tale of the Three Trees is one of my favorite books of all time.  It tells a story of 3 special trees that grow up and have different hopes and aspirations.
When the Tommy Nelson Mommy program gave me a chance to review and giveaway – The Legend of the Three Trees – The DVD – I couldn't say yes fast enough!
Sometimes on a road trip or just Mama needing some quiet time – a DVD is so needed.
But, when it is combined with my favorite story about trees – it just makes me even more grateful and excited.
The DVD is very lulling and calming.  Not a DVD that you would play in order to stay awake like the Incredibles.  It is a DVD that tells a story and made for younger kids in mind.  Older kids would probably prefer the book more.  However, it still would make an excellent gift.  It seems to be a short cartoon, great to even play on a Sunday Morning while waiting for parents to pick up children.
From the publisher:
God always has a plan and a purpose for everything. He does things in His own unique way and in His own time.

The Legend of the Three Trees is a timeless retelling of the classic folktale of three distinct trees, each with its own hopes, dreams, and aspirations. Each tree dreamed of becoming great—perhaps a majestic treasure chest, or a magnificent sailing ship, or maybe the tallest tree in the forest.

But their dreams didn't seem to come true. Disappointed and dejected, the trees despair until they each interact with Jesus Christ—in His birth, ministry, and ultimate sacrifice. In these experiences they learn that God has a special purpose for each of them.

Thoughtfully written and beautifully animated, The Legend of the Three Trees teaches children and adults alike the significance of their role in God's plan for the world.

Features & Benefits:

Beautifully animated classic folktale with a fresh, new cover
Teaches children the important lesson that they are significant and God has a special role for them to play
Narrated by Hal Holbrook
Features two original songs
For the ages – Boy 2-5, Boy 5-7, Girl 2-5, Girl 5-7
If you would like to be entered to get a chance to have
The Legend of the Three Trees DVD
please leave a comment saying who you want it for?
This will be closed next week on 9/29/2014 at 9:00 p.m.
Only one entry per email please.
Please leave your email or if you win, I cannot contact you.
You will only have 48 hours after I contact you to claim your prize or I will pick a new winner.
Entries from USA only.
Winners will be chosen by And The Winner Is App.
Blessings to you!  You are loved!
[button align="" color="" size="" link=""]Note: I may have been sent complimentary copy for review purposes only. Any links can be affiliates meaning if you buy something I might get some pennies. This review has not been monetarily compensated. The review was my honest opinion and views and not influenced by the sponsor in any way.[/button]