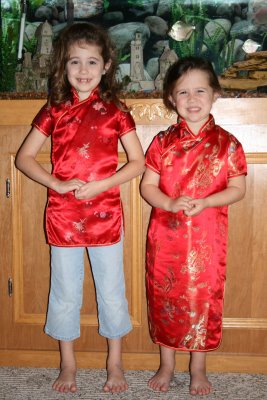 As a family, we have decided to take a different country each month and learn a little more culture.
This month, we decided to take on China because of their new year and we love to celebrate with others.
To make it more alive, each child had to do some fun research.
[wpsr_pinterest]
10 year old had this research…
Major types of religion practiced.

Type of government.

Population

Is the country bigger than Texas?

Is it smaller than Rhode Island?
8 year old
What continent is the country located?

What is the primary language?

Find interesting facts by using library books.

Major holidays?
6 year old
Color the country's flag.

Decorate the table for the party.

Greet visitors and be a sweet hostess.
The other two children, well, I just needed them to be sweet for mommy. That was enough and kind of hard for both of them, at times.
To end the study, we had a Chinese New Year Celebration. We invited some fellow homeschoolers, to join us.
We also made simple Chinese lanterns.
Our menu consisted of fried rice, mini-egg rolls, chicken nuggets, and green tea as we sat on pillows.

We let the children use chopsticks (they were better than most adults I've seen).

I can't wait until next month. It was so exciting for me as a mom to see the kids enjoy learning.
So, Happy Chinese New Year!
[wpsr_pinterest]
©www.ilovemy5kids.com