We moved in our home over 6 years ago. It was fixer-upper so we have had to do sooooo much to it.
I have never been happy with the style until recently looking at the blogging world.
I have learned easy cheap tricks to make it more homey.
One trick was fabric. Curtains or cornices add the same element like eyeliner does to the face.
It frames and softens the room. So, guess who I employed?
Careful, that is a staple gun! With his help, he made these. No sewing involved.
Cut the board to fit over your window.
Pad it with padding.
Staple it up. Easy as pie! (It would have taken me longer because I'm fraction challenged.
Thank God, my hubby loves numbers. He also likes to use a staple gun. He bought it for me, HA!)
This one went in our library.
(Top) The bottom pict was in our living room.
Aren't they beauties? Eventually, I might add sheers to cover the "office look."
But, for now they are essential. Oh, did I mention I got the fabric on sale? SWEET!
Next project will be my lamps!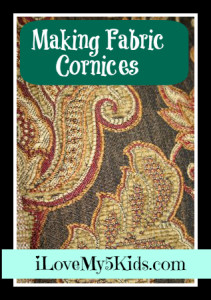 [wpsr_pinterest]
Blessings to you!!!  You are LOVED!!!
©www.ilovemy5kidscom